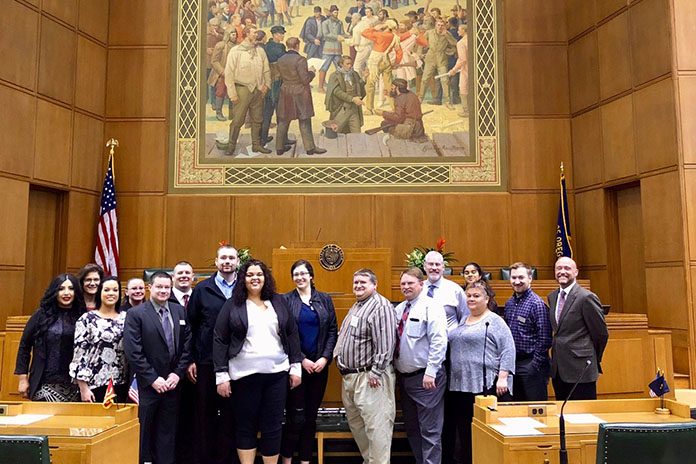 Oregon State Rep. Greg Smith (R-Heppner) hosted the 2017-18 Leadership Hermiston Class at the Oregon State Capitol.
The class began their two-day visit in Salem Thursday evening by attending a reception in their honor hosted by Representative Greg and Sherri Smith. Smith invited many of his colleagues to join him in welcoming the group.
The class then spent Friday attending a full day of events and meetings organized by Smith. The agenda provided Leadership Hermiston the chance to watch the House of Representatives in action, have face-to-face conversations with legislators from across the state and learn how their state government operates. Highlights included spending time on the House Floor with Smith, and meeting House GOP Leader Mike McLane, Speaker of the House Tina Kotek, and Gov. Kate Brown.
"Our Leadership Hermiston class was able to learn much about the many aspects of our state government and how it works," said Fran Rice. "A special thank you to Representative Greg and Sherri Smith for welcoming us into their home, and setting up meetings with legislators, lobby members, and many more."
"It was an honor to host Leadership Hermiston in their Oregon State Capitol," said Rep. Smith. "After getting to know the members of this year's class, there's no doubt the Hermiston community has no shortage of great leadership."
Leadership Hermiston is a 10-month program sponsored by the Hermiston Chamber of Commerce. The program offers full-day sessions once a month designed to inform participants of current concerns involving their community, including business, government, agriculture, health services, human services, education, media, and the justice system.