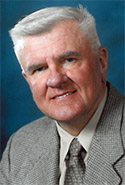 Richard Ernest "Rich" Betz of Hermiston died on Nov. 26, 2019 at the age of 76.
He was born on Jan. 17, 1943 in Bremerton, Wash. to Ernest and Edna Betz.
Rich's youngest years were spent in the lower Yakima Valley. He eventually ended up in Quincy, Wash. and graduated from high school in 1961. Rich was a multiple-sport athlete and state champion wrestler. Rich was active in 4H and FFA and had a passion for raising and showing cattle around the state. After high school, Rich attended Washington State University, graduating in 1965 with a Bachelor of Science degree in Agricultural Economics. While in college, Rich was enrolled in ROTC. After graduating, Rich served his country in the Vietnam War as second lieutenant in the U.S. Army Infantry/Airborne Division. While serving, Rich was recognized for his willingness to go "above and beyond" the call of duty, receiving two Bronze Stars to commemorate his efforts.
In 1969, Rich married Theresa Faulk in Grandview, Wash. Shortly after marriage, the couple followed Rich's parents to Hermiston with the idea of trying center pivot irrigation to produce potatoes for a fresh pack facility that Ernest was in the process of building, known as Royal Pak. Rich called upon his college roommate and longtime friend, Walt "Bud" McDevitt, to move to Hermiston and help get the operation started. Rich and Walt ended up forming a business partnership (now known as Bud-Rich Potato), buying the packing facility from Rich's parents and developing an irrigated farm along the Columbia River known as Royale Columbia Farms. Rich and Walt remained loyal business partners and best of friends through the tumultuous cycles of agriculture, well known for their honesty, integrity and charitable spirit.
Rich and Theresa had two children, son Troy, born in 1970, and daughter Tricia, born in 1974. Both children graduated from Hermiston High School, as well as Washington State University. Rich and Theresa were very devoted parents, seeing to it that there was always at least one of them in the stands for every game, recital, horse show or any other event that Troy and Tricia might be involved with along the way.
Rich served on numerous boards and committees, including Hermiston School Board, Oregon Potato Commission and National Potato Board, where Rich traveled extensively and was proud of the accomplishments towards opening up foreign trade borders for U.S. potato products. In 1985, Rich was recognized as Hermiston's businessman of the year. Most recently, Rich was very proud to be presented the Diamond Pioneer award by Oregon State University. Rich ended up stepping away from the business somewhat in early 2000 to spend more time with Theresa, who had fought several bouts of cancer which eventually took her life in 2008. Up until his own death, however, Rich stayed up to date with all of the dealings of the packing shed and farming operations being run by his son Troy and his business partner, Greg Juul (McDevitt's nephew), and always made himself available for his perspective and opinion regarding strategic decisions and direction of the businesses.
Left behind to carry on his relentless sense of personal values, integrity and kindness to others are his loving companion and fiancé, Patty Matheny; sister, Kathryn; son, Troy (Lisa) Betz; daughter, Tricia (Todd) Vallie; grandchildren, Taylor Betz, 21, Blake Betz, 17, Tyson Fenley, 18, Ashlee Fenley, 13, Kristina Cagle, 27 and Jacob Vallie, 18; as well as several nieces and nephews.
Rich was preceded in death by his parents; wife, Theresa; and brother, John.
Visitation will be on Thursday, Dec. 5, 2019 from 1 until 6 p.m. at Burns Mortuary Chapel, Hermiston.
A celebration of life service will be held on Friday, Dec. 6, 2019 at 10:30 a.m. at New Hope Community Church, 1350 S. Highway 395, Hermiston.
A private family burial will be held at the Hermiston Cemetery.
In lieu of flowers, the family would request that memorial contributions be sent in Rich's honor to Made To Thrive, Meadowood Speech Camp, Trinity Lutheran Church or any other charity of personal preference.
Please share memories of Rich with his family at burnsmortuaryhermiston.com.
Burns Mortuary of Hermiston is in care of arrangements.