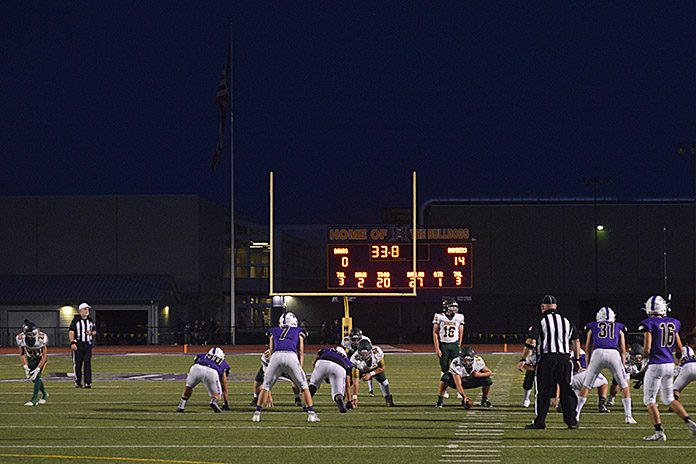 The Richland Bombers scored on big pass plays the first two times they had the ball Friday night and built a 28-0 lead before handing the Hermiston Bulldogs their second-straight loss of the season.
The Bombers immediately quieted the raucous crowd at Kennison Field when quarterback Harrison Westover found Ben Fewel on a 66-yard pass to open the scoring.
On their next possession, facing a third-and-11 early in the drive, the Bombers struck big again, this time on a 79-yard pass play from Westover to Dawson Palm.
The two teams traded punts for much of the second quarter before the Richland passing game began clicking again late, culminating with a 10-yard touchdown pass from Westover to Kayden Roxburgh with 14 seconds left in the half.
No scoring, but a lot of action took place in the final 14 seconds of the first half, including Richland recovering the ensuing kickoff and Hermiston's Garrett Walchli intercepting a Westover pass before the two teams headed to the locker rooms with Richland leading 21-0.
The Bombers lived up to their nickname by compiling 289 yards through the air in the first half alone.
A blocked Hermiston punt led to the Bombers' fourth touchdown of the night when Westover hit Fewel for the second time on the night – this time an 11-yard strike – to give Richland a 28-0 lead early in the third quarter.
On their next possession, Hermiston was finally able to put a drive together before turning the ball over on downs at the Richland 11-yard line.
After forcing a 3-and-out by Richland, Hermiston got on the scoreboard when Sam Schwirse found a wide-open Trevor Wagnor on a fourth-and-goal from the 6. Schwirse got the starting nod Friday in place of Chase Elliot, who suffered a season-ending injury last week in the loss to Pasco.
Wagnor scored on a 3-yard touchdown run in the fourth to wrap up the scoring for the night.
Ryan Arnold had a big night on defense for Hermiston, making 16 tackles, including 11 solo tackles, with three for a loss.
Schwirse finished the night completing 20 of 27 passes for 139 yards and one touchdown pass.
The 28-14 loss drops Hermiston to 0-2 on the season while Richland improves to 1-1 in the Mid-Columbia Conference (MCC). Richland hosts Sunnyside next week in a non-conference game while Hermiston travels to Kennewick to battle the Lions in a MCC matchup.