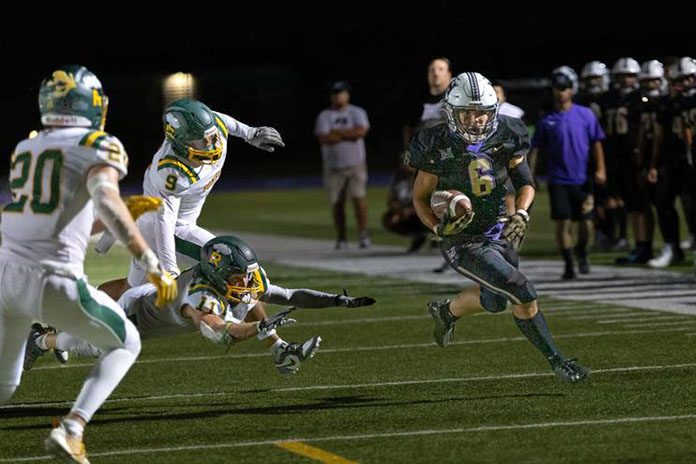 Josh Woodard threw seven touchdowns passes — three to Rayce Reaves — as Richland escaped Kennison Field with a 56-49 Mid-Columbia Conference win Friday, Sept. 8, over Hermiston.
"It was so fun to be part of that game," Hermiston coach David Faaeteete said. "The atmosphere at Hermiston was electric. It was pretty cool. It was a great battle. There were some crazy plays. I was proud of our kids, they never quit. We got down by two scores, but they never gave up."
Hermiston quarterback Isaac Corey threw for 473 yards and three touchdowns, and ran for 45 yards and three touchdowns to lead the Bulldogs (1-1). Ben Larson added 102 yards rushing, while Dale Krebs caught seven passes for 152 yards, and Jaime Ramirez-Ortega had five catches for 150 yards.
"He has moxie and a competitive will," Faaeteete said of Corey. "It was nice to see them compete at such a high level. Our kids are so hungry for success. This will help motivate us."
Richland, which has never lost a football game in the state of Oregon, scored the first touchdown of the game as Woodard hit Chris Daniels with a 40-yard scoring pass.
Back-to-back scores by the Bulldogs gave them a 21-13 lead mid-way through the second quarter, only to see the Bombers come back with three touchdowns before the half for a 35-28 lead.
The final score of the half was a 48-yard pass from Woodard to Colson Mackey with no time left on the clock.
Krebs hauled in a 14-yard pass from Corey to tie the score at 35-35 midway through the third quarter. The teams were tied 42-42 at the end of the third.
The Bombers (2-0) scored twice to open the fourth quarter for a 56-42 lead.
Corey put together a 30-yard run, then scored on a 5-yard touchdown to pull the Bulldogs within 56-49 with 2:11 left in the game.
"It was back and forth," Faaeteete said. "Both teams made their mistakes. It was a great battle. We'd get a stop, they'd get a stop. They scored on a Hail Mary before the half when we should have gone in tied. Sometimes you get lucky. Tonight we didn't."
Woodard finished the game with 388 yards, while John Simons led the ground game with 68 yards on 13 carries. Mackey had six catches for 102 yards.
Hermiston will play Sept.15, at Walla Walla.