Robert Ralph Hensel of Hermiston passed away in his sleep on April 24, 2013 from a long bout with Multiple System Atrophy (MSA) at the age of 59.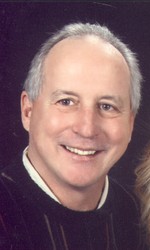 With the exception of a few years, while in college, the Air Force and at the Attorney General's Office in Salem, he spent his life in Hermiston. He attended first grade at Sunset Elementary where he and his twin brother were assigned to the same class. They never had another class together the rest of their lives.
Sports were his passion and he was good: Little League All Stars, Babe Ruth All Stars, and state champion hurdler at the 15 year old AAU track meet. A four-sport letterman (football, wrestling, track and baseball) in high school, he went on to compete at the college level (Columbia Basin and Southern Oregon) in wrestling.
He graduated from Southern Oregon with a bachelor's in criminology and served in various positions in the state from youth probation and parole officer to chief investigator for the attorney general.
In 1974 Bob married Dawn Wennberg, one of the most gentle people in the world. They had one son, Matt. Bob was always very proud of Matt and spent as much time as possible with him. Hiking, camping, river trips, and sports. Bob even coached Matt's Babe Ruth baseball team. Matt graduated with a degree in psychology from the University of Oregon and lives in Washington, D.C.
During the late 1980s and 1990s, Bob and Molly Hansen helped raise her niece and nephew when her sister died. She and Bob provided a foundation for them to recover from their loss.
With Matt grown up, Bob retired from the Department of Corrections and married Lorie James. With her son, Shane, he began the last, yet wonderful phase of his life. To an outsider, it would seem they began an endless series of train adventures. From frequent extended- family trips at Big Mountain, Montana to an excursion to Time Square on New Year's Eve. There were few places in the country that they did not visit.
Although only diagnosed a year ago, signs of his condition had existed for the past seven years. Lorie and her family faithfully remained by his side despite the difficulty of dealing with the ever increasing severity of the symptoms. Their last train excursion was to Washington, D.C., and came just two weeks before his death, when he visited his son for the last time.
He went everywhere, did everything (and cooked everything). He loved all and disliked none. His purpose in life was to make people happy; to help them live happier lives. He didn't join an organization to help people; he just helped whomever whenever and always.
But, for the record, Mom did like him best.
Bob is survived by his wife Lorie of Hermiston; stepson Shane Wiley of Hermiston; father in-law and Mother in-law Merril and Linda James of Pendleton; Brother in-law and Sister in-law Roger and Jeanine Youncs, nieces Shaelin and Brielle of Pendleton; son Matt Hensel and his partner Shannon Duff of Washington DC; nieces Heather, Cheryl, Carie, Jana, Rea, Jami, Valry, and Katherine; nephew Mitch and Garrett; sister Diane and her husband Roger of Pittsburgh, PA; his twin brother Rick and his wife Rosemary of Gervais, Oregon.
He was preceded in death by his father and mother, Fred and Betty Hensel; and his brother, Bill Hensel.