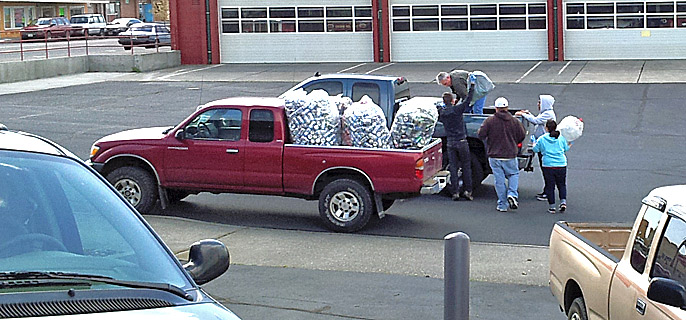 A host of fundraisers on Saturday netted the Umatilla Robotics Club nearly $3,000 to help fund a trip to the FIRST Robotics Competition World Championship in St. Louis.
"We had the most amazing day," Umatilla School District Superintendent Heidi Sipe said Saturday. "Between our pancake sale, bake sale and yard sale, we earned $2,900. Amazing! We also have donations of both funds and cans to account for. The support has been nothing short of incredible."
The fundraisers will help the robotics team meet its goal of $15,000 to transport about a dozen Umatilla High School students and adult team mentors to the St. Louis championships April 24-27.
The team qualified for the finals in the Spokane Regional on April 6. The team's robot, Rambo, has already been shipped to St. Louis.
All items sold at the yard sale were donated, and shoppers were able to suggest a price for any items, which included toys, televisions and, yes, even a kitchen sink.
"We'd like to thank Clean Spot Car Wash, who will generously share in their profits from today with the team, Harvest Foods for their help with our can drive and Java Junkies and Freestyle Pizza for their fundraising help," Sipe said. "And, of course, a huge thanks to the many in the community to donated to the sale, with items or cans, and shopped at our sale."
The team is continuing to accept donations to team members or through a PayPal account on the UHS Robotics Club website.
Anyone interested can also support the team by eating at Chuckwagon Cafe this week. From April 15-20, diners at Chuckwagon Cafe can mention the robotics team to receive a free soft drink, iced tea or coffee. After mentioning the team, the restaurant will donate 20 percent of the tab to Umatilla Robotics.