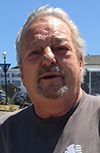 Rod Allen Dunlap of Hermiston passed away in Hermiston on Saturday, Jan. 25, 2020 at the age of 70.
He was born Dec. 28, 1949 in Portland toGeorge and Darlene (Calder) Dunlap. Rod grew up and attended school in Vancouver, Wash., graduating from Evergreen High School in the Class of 1968. He moved to Hermiston in the 1970s where he owned and operated Seventh Street Upholstery for several years. In 1977, he went to work for the Union Pacific Railroad where he was a heavy equipment operator until retiring in 1999.
Rod was a sports enthusiast who enjoyed playing tennis, basketball, softball and pool. He enjoyed traveling throughout the world watching his children compete in taekwondo tournaments.
Rod married Jacqua "Jackie" Howton in Hermiston on May 30, 1987.
He is survived by his wife, Jackie; children, Corey and wife, Juliet Scheer, Amber Dunlap and husband, Russell Jackson, and Matthew and wife, Brianna Dunlap; grandchildren, Jillian, Gabriellah, Paisleigh and Bristohl; sisters, Debbie Halbach, Sandy Bartkowski and Dianne Dunlap; and many nieces, nephews and extended family members.
He was preceded in death by his parents; and sister, Sherri Eklund
A memorial service was held Wednesday, Jan. 29, 2020 at the Burns Mortuary Chapel.
Family suggest memorial donations be made to Vange John Memorial Hospice or to Pet Rescue Humane Society of Eastern Oregon.
To leave an online condolence for the family please go to www.burnsmortuaryhermiston.com.