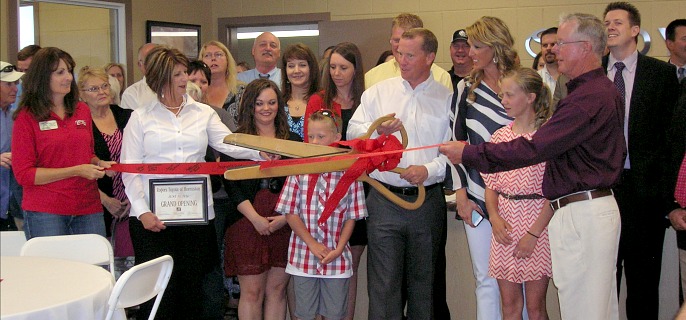 Rogers Toyota of Hermiston celebrated its grand opening with a luncheon and ribbon cutting Friday.
New owners Ryan Rogers and his father Rich Rogers took charge of the Campbell Toyota dealership and have spent the past six months preparing to open. The Rogers family is from Lewiston, Idaho, where they have sold Toyotas since 1982 and have been in the dealership business for more than 42 years.
Ryan Rogers thanked those present who have made this business venture possible. "We're very fortunate to have the greatest (staff members) in our industry. We're very fortunate to be partners with Toyota."
"We're excited to be in Hermiston," he said.
General Manager Jack Kemp echoed the sentiment, saying that Hermiston is "a great, supportive community. This is a place I want to live."
In honor of its grand opening, the dealership is offering exclusive interest rates on 100 specially allocated Toyota vehicles for the rest of June.
For more information, call the sales department at 541-567-6461 or visit Rogers Toyota at 1550 North First Street in Hermiston. Sales department hours are Monday through Friday, 8:30 a.m. to 6:30 p.m.; Saturday, 9 a.m. to 6 p.m.; and Sunday, 10:30 a.m. to 5:30 p.m.
To learn more about Rogers Toyota, visit the dealership website.