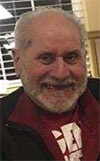 Ruben Treviño Ramirez Sr. departed to be with our Lord Jesus Christ on Sept. 3, 2020 at his home in Hermiston at the age of 83.
He was born on March 9, 1937 in Penitas, Texas to Maximo Ramirez (from Penitas, Texas) and Justina Treviño Ramirez (from La Joya, Texas).
Ruben met his future wife at Bearkat Drive Inn in Raymondville, Texas through her cousin Cornelio Valdez in 1957. Two months later he married the love of his life, Oralia Valdez DeLeon Ramirez, on April 9, 1957. From there they went on and had nine children and worked hard for all his kids to be able to provide for them. He taught his kids how to work hard, and today many of us can relate to all his hard work. He showed our family how to work hard together and to keep us united. He was a loving father and loved helping many people. Ruben worked with his father in Raymondville, Texas moving houses and hauling dirt, sand and gravel with their backhoe and dump truck for 10 years. In 1974 he moved with his family to Washington, where he picked asparagus along with his children for the next 11 years while migrating back and forth from Texas. In 1984 he moved to Hermiston, where he started a trucking company named Ramirez Trucking along with his son, Ruben Ramirez Jr., hauling agriculture commodities, where today we continue to carry his legacy. For many years as a family tradition, Ruben would take Christmas trees to sell in Denton, Texas, which became a month that we all would treasure and look forward to. The highlight of the trip was to get to Denton, Texas and set up the tree lot as fast as we could and be able to go watch Ruben's favorite team, the Dallas Cowboys.
Ruben will be missed, but definitely not forgotten. He taught us so much, and his memories will last forever.
He is survived by his wife, Oralia Valdez Deleon Ramirez, and sons and daughters in this order: Estella McCary (Mark McCary), Ruben Ramirez Jr. (Dolores Ramirez), Alejandro Ramirez, Evelinda Cardoza (Juan Cardoza), Arturo Ramirez (Jessica Ramirez), Jorge Ramirez, Hector Ramirez (Yolanda Ramirez), and Gerardo Ramirez Sr. (Belinda Ramirez); sisters, Olga Contreras and Bertha Castaneda (both from Raymondville, Texas); and by 34 grandchildren and 49 great grandchildren. He was preceded in death by his parents, Maximo Ramirez (father) and Justina Treviño Ramirez (mother); Justina V. Valdez (daughter); Juan Cardoza Jr. (son-in-law), Jessica Ramirez (daughter-in-law); baby Ruben Ramirez (grandchild); Raul Ramirez (brother); Rodolfo Ramirez (brother); Ramiro Ramirez (brother); Hector Ramirez (brother); and Rebecca Gutierrez (sister).
A family service and burial will take place in Hermiston.
Please share memories of Ruben with his family at burnsmortuaryhermiston.com.
Burns Mortuary of Hermiston is in care of arrangements.