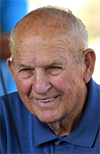 James S. "Sam" Esterbloom of Irrigon passed away peacefully in his sleep surrounded by his family and went home to be with Jesus his Savior on Aug. 15, 2018 in Boardman at the age of 90.
He was born on Oct. 13, 1927 in Bonita, Calif.
His parents were some of the founding settlers in the area. He grew up with a love of sports and farming that stayed with him his whole life. He entered the Army in 1952 and served two years in Alaska as a medic.
He and his wife Jane moved his family to Falls City in 1976. Sam, Jane and their daughters enjoyed almost 20 years in Falls City and the fellowship of the Bridgeport Community Chapel congregation. In 1992, Sam moved the family to Boardman. He was one of the original employees of Boardman Foods and continued his employment there for over 20 years. The family attended Boardman Community Church and New Hope Community Church.
Sam's love of gardening was apparent to all who knew him. He gardened avidly and loved to share the abundance with the communities he lived in. He was dedicated to his Christian beliefs and spent his adult life sharing the gospel with others. He gave many of us a love of gardening and a love of the Lord that will be with us forever.
He is survived by his wife, Jane; daughters, Sandee Relph, Joy McCaslin, Debbie Radie (Dave Radie), Deanna Camp (Mike Camp), Dana Fetter (Larry Fetter), Donna Boackle (Gary Boackle) and Darla Irwin (Kevin Irwin); his son, Mike Esterbloom; 28 grandchildren; and 25 great grandchildren.
A celebration of life will be held on Sunday, Aug. 26, 2018 at 2 p.m. at New Hope Community Church in Hermiston.
Private burial will be at Willamette National Cemetery, Portland.
In lieu of flowers, please give to New Hope Community Church, American Missionary Fellowship of Hermiston or American Missionary Fellowship of Falls City.
Please sign the online condolence book at burnsmortuaryhermiston.com.
Burns Mortuary of Hermiston is in care of arrangements.