Sean E. Johnson died at his home in Hermiston on Friday, May 10, 2013.
He was born to Lyle E. and Connie (Frame) Shepard on August 4, 1977 in Missoula, Mont. His parents divorced in 1979 and Connie married Brian L. Johnson in 1983. Brian adopted Sean and his brother Jeff that same year, and Brian and Sean formed an unshakeable bond of love for one another from the very start.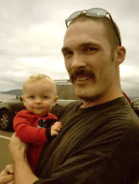 Sean married Lea DeLaCruz on Sept. 22, 2001 in Sylvester Park, Pasco, Wash. He loved her girls, Dazia and Breze, with all his heart from the moment he met them nearly three years earlier. When the girls were younger and Sean and Lea lived in Kennewick, he loved walking with the girls to the park or swimming pool on a hot summer day. Playing card games like Skipbo, croquet outside on the lawn in the house they had in Umatilla, or throwing the football or Frisbee to the girls was a favorite pastime.
Sean absolutely loved to be outside enjoying nature with his family. Watching birds, picking up rocks, taking Lea, and the girls and later on his grandson, Haydin, on the Nature Trails in Umatilla and pointing out all the little animals, and watching deer were all things that brought him joy and happiness.
On Sept. 7, 2011, Breze's little boy, Haydin Briar Foster was born and Sean became a grandfather. Haydin was Sean's pride and joy. The two of them were best buddies. Sean always called Haydin, "Bud" or "Bugs." Sean never liked having his picture taken, but he gladly would have it taken and smile with pride if he was holding Haydin. Sean took his family on a trip to the coast last summer and was tickled to watch Haydin at the beach for the first time. He had fun showing him all the little special things to be found at the beach.
Sean was especially close with his dad and mom, Brian and Connie Johnson of Plymouth, Wash. He knew they loved him dearly and could be counted on to be there for him thru good times and hard times. Brian was truly his best friend. He never left his mom's house without giving her a big bear hug and a kiss on the forehead, telling her, "I love you Mom!" Even if they were arguing he'd stand at the door and say, "Give me a hug before I go, Mom. I love you." His mother and dad will miss him more than words can say.
Sean's Grandpa Glen (deceased) and Grandma Glory Frame's place in Frenchtown, Mont., on Mill Creek, was where he truly considered "home."
As a little boy, Sean loved to fish in Mill Creek at with his brother Jeff and his grandpa, Glen and take his fish home to Grandma Glory to cook up for him. If he wasn't fishing, he wanted to be riding with Grandpa Glen in his road grader for the day, or running over to Great Uncle Tom and Aunt Evelyn's for a visit. Playing cribbage, checkers, or aggravation, or the Farming Game were always a favorite. Grandma's cinnamon rolls and sour cream potato dumplings or cabbage ronzas would bring him running for supper.
The happiest times in Sean's life were spent with those he loved fishing or playing in the water. He loved playing and fishing in the Columbia River with Lea and the girls, his Dad or his many friends as often as he could. As Lea said, "For someone who spent as much time fishing as he did, he didn't bring home many fish." For Sean, the fun of fishing was being by the water, with family or friends, enjoying watching the birds and listening to the sounds of nature. Sean loved watching the eagles that were around last spring from his folks house in Plymouth.
Sean seemed to make friends wherever he went. He loved to camp and fish and play with his friends, or just watch football together. He was a loyal and true friend to many. He loved to make smile and laugh. He was always for a game of poker and usually did pretty good at it.
Sean loved going to the Frame Family Reunions at Great Uncle Dave's in Dayton, Wash., along the Tucannon River, especially before his Grandpa passed away. Playing cribbage with Grandpa at a picnic table or fishing, as well as visiting with all the family. His "Uncles" (Grandpa Glen's brothers) were very special to Sean. The love and support they gave him and Jeff when their Grandpa Glen passed was something he often mentioned.
He is survived by his wife, Lea; UNstepdaughters Dazia and Breze Liddell; his Mom and Dad, Connie and Brian Johnson; Plymouth Wash.; brother Jeff (Kristi) and family (Liam, Aidan, Haileigh ) of Castaic Calif.; father Lyle E. Shepard (wife Terry) of Arroyo Seco N.M., and family (Cherity, Patrick, Jenny); Grandma Glorianne (Lohrenz) Frame of Powell, Wyo., Aunt Cindy (Steve) Inman; sons, Tucker and Lance of Billings, Mont., as well as great uncles and aunts, cousins, etc. and his many friends over the years from Missoula, Mont., Tacoma Wash., the Tri-Cities, Wash., Hermiston, Umatilla and Irrigon. Sean was loved even more than he knew and will be missed more than he ever realized. Rest In Peace.
A celebration of life gathering was held on Saturday, May 18, 2013 at Engineer Park, Umatilla.
Please sign the condolence book at burnsmortuaryhermiston.com
Burns Mortuary of Hermiston is in care of arrangements.