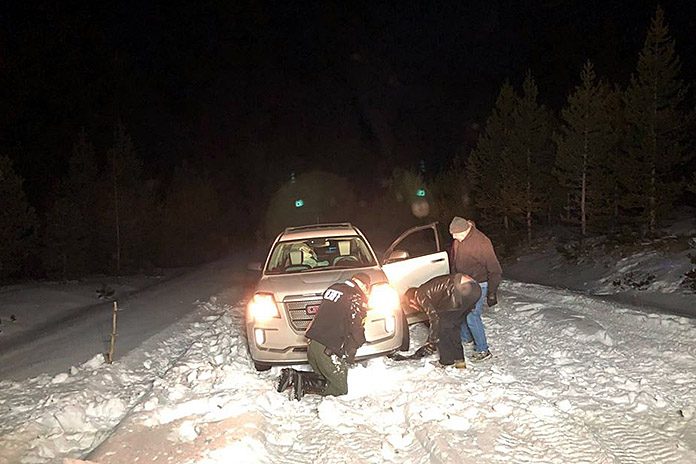 A Umatilla County Search and Rescue (SAR) team pulled two vehicles stranded in the snow east of Ukiah last Saturday.
Around 10 p.m. on Saturday, Jan. 4, the Umatilla County Sheriff's Office received a report of two separate vehicles stuck in the snow several miles east of Ukiah on Forest Service Road 52. According to the sheriff's office, local towing companies would not respond, so SAR team members Dwight Johnson and Craig Russell responded with a Polaris UTV equipped with snow tracks.
They located the first stranded vehicle, a Volkswagen Jetta, at approximately 1:45 a.m. on Road 52 in the Pearson Ridge area. The car was occupied by a young couple who were trying to take a "scenic route" back to Idaho. Johnson and Russell freed their vehicle and then continued east in the UTV for less than a mile when they located the second vehicle, a GMC Denali SUV, which was occupied by an elderly couple from Roseburg.
They had become stranded after being told by "someone in Boardman" that they could get to Granite on the road (this would be true in the summer, not in the winter). After freeing the Denali, the long night ended with the SAR team escorting both couples back to Ukiah.