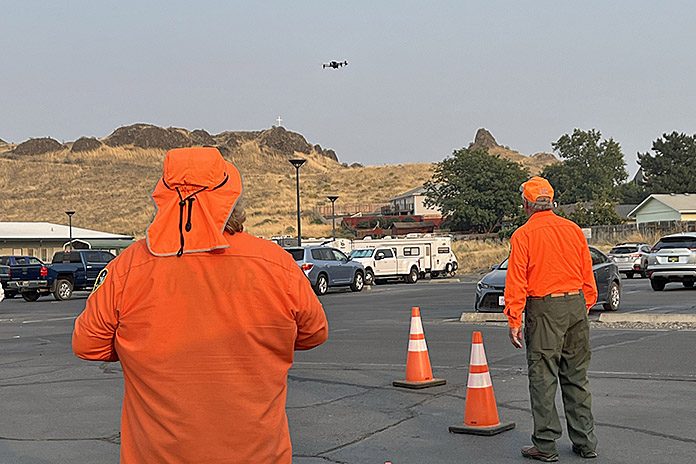 Umatilla County Search & Rescue put its latest drone to the test Tuesday evening when it was sent out on a mission to find a "missing person."
The person wasn't really missing. It was Good Shepherd Health Care System President & CEO Brian Sims playing the role of a missing person to help demonstrate the capabilities of the drone that was purchased thanks to a grant from the Good Shepherd Community Health Foundation.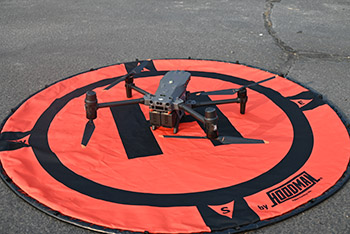 Flying at around 150 feet in the air and controlled by personnel on the ground, the drone flew around the hospital and the butte transmitting video images back to a handheld screen. When something of interest caught the attention of the crew on ground, the drone was paused in mid-air to allow for a closer examination.
Several minutes later, the drone spotted Sims and "rescuers" sent a golf cart over to bring him back.
"We're excited to see our new drone in action," said Sgt. Dwight Johnson of the Umatilla County Sheriff's Office. Johnson oversees the 36-member Search & Rescue team and its unmanned aircraft systems (UAS) program.
The purchase of the drone several months back was made possible by a $15,000 grant from the health foundation this past spring. It weighs about 10-12 pounds, can fly up to 35 minutes on a single battery charge and has "significant zoom" capabilities. It can also operate in more extreme temperatures than the Search & Rescue team's older drones.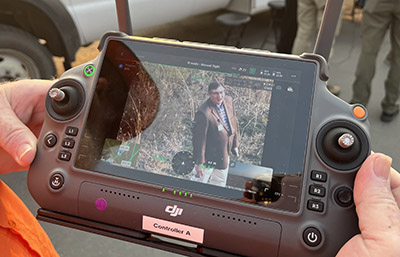 Search & Rescue's UAS program has been in place for about five years and was developed to fly over terrain that is difficult and slow for ground teams to search. The drones provide information in real time for many types of incidents including fire, crime, as well as search and rescue missions.
Though still new, the drone has already been put to use in an actual emergency. It flew over the Grain Craft Flour Mill in Pendleton during the fire that broke out in August.
"It allowed us to see where some of the real hot spots were," said Johnson.
He said the capabilities of the new drone continue to impress the crew.
"In training, we've found people in the middle of nowhere and up in trees," said Johnson. "It's state of the art. We're still learning what this drone can do."