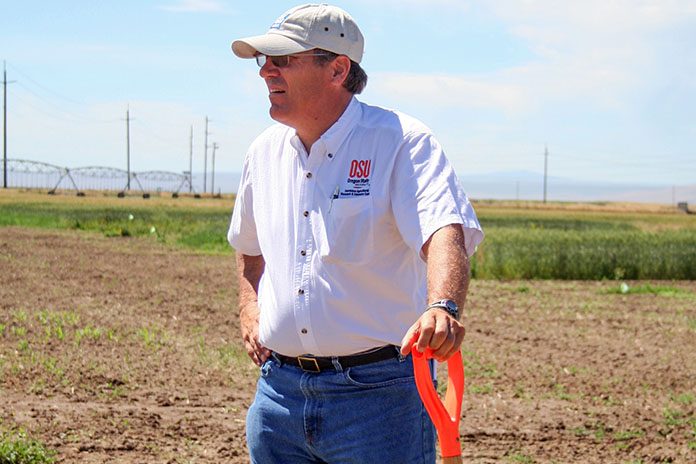 A banquet and fun run are planned Saturday, Sept. 22, 2018, to remember Don Horneck and raise money for ag education in his honor.
Sponsored by the Hermiston Lions Club, the events honor the longtime agronomist and soil scientist at OSU's Hermiston Agricultural Research and Extension Center. Horneck, who died in September 2014, was an active member of the Lions Club.
The 5K fun run and walk begins with registration at 7:30 a.m. at Hermiston High School, with an entry fee of $15.
The banquet and auction begins with a social hour at 6 p.m. at the Hermiston Community Center, 415 S. Highway 395. Dinner will be served at 6:30 p.m., followed by live and silent auctions.
Banquet tickets are $40 and are available at the Good Shepherd Health Care System, Kuhn Law Office, OSU Research & Extension Center, Hermiston Chamber of Commerce and Umatilla Electric Cooperative.
Banquet sponsorships are available by contacting Phil Hamm at philip.b.hamm@oregonstate.edu or Bill Kuhn at WJK@kuhnlawoffices.com. Donations of auction items may be made by contacting Aaron Treadwell at atreadwe@umchs.org. For more information, call Kuhn Law Office at 541 567-8301. The Lions will arrange to collect your auction donations, which are tax deductible.
Tom Spoo will cater the dinner, Cole Crosthwaite will provide entertainment and Charlie Clupny will emcee.
Proceeds go to the Lion Club's community project fund to support projects in Horneck's honor. Previous donations have supported the Oregon State University Foundation and BMCC's Precision Irrigated Agriculture Center.
This year, a portion will go to Hydromania, Umatilla Electric's summer day camp focused on science, water, energy and environment, which marked its 20th anniversary in 2018.
Open to any students completing the fourth or fifth grades, the camp provides hands-on learning opportunities and field trips hosted by local industries and ag producers.
Hydromania helps students become familiar with the life cycle of salmon, the significance of irrigated agriculture and the contributions of the Columbia River's hydroelectric dams.
Day trips include the Hermiston cogeneration plant, Lamb Weston, Irrigon Fish Hatchery, SAGE Center, Columbia Park, Ft. Henrietta Park, McNary Dam, Madison Farms and the OSU Extension Center. In honor of the 20th year, campers traveled to the Hanford Reach Interpretive Center in Richland, Wash., which features Columbia Basin history, geology, science and technology.