Umatilla County Sheriff's deputies arrested Gerardo Aguilar, 18, on multiple charges in connection with an armed robbery in Hermiston on Friday Oct. 23.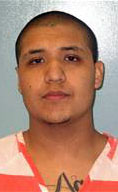 On Friday Umatilla County Sheriff's Office Deputy Travis Stark responded to the initial call from a male victim who reported that he was robbed at gunpoint of cash, a cell phone and his car keys. The victim was able to identify the suspects as Gerardo Aguilar and a female juvenile. The victim also provided a description of the suspect's vehicle, and reported that two other persons were with Aguilar and the female during the crime.
On Sunday, Deputy Cody Marcum and Deputy Michael Ellwood located Aguilar and the female juvenile. Both suspects independently admitted that they committed the robbery, according to UCSO.
Aguilar was charged with first- and second-degree robbery, second-degree theft, menacing and unlawful use of a weapon. He's been lodged in the Umatilla County Jail.
During the investigation, the deputies also learned that Jovanni Lemus, 20, and another juvenile female were involved in the crime. Deputies located the two along with the vehicle and firearm allegedly used in the robbery at a residence on N. Townsend Road in Hermiston. Deputies arrested Lemus and lodged him in the Umatilla County Jail. The juvenile female was lodged at the juvenile detention center in Walla Walla.