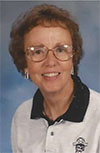 Shirley Ann Donovan of Boardman died on May 9, 2022 at the age of 86 with family by her side, after a brief stay at Regency Nursing and Rehabilitation Center in Hermiston. Shirley was born on Sept. 14, 1935 in Pendleton to Dewey Walter West and Althea Delworth Wetherell West.
Shirley was raised in the Arlington area along with her three siblings, brother, Dewey West Jr. and sisters, Evelyn and Lois. Shirley attended Rock Creek School and later graduated from Arlington High School in 1953.
Shirley was united in marriage to Carroll Jack Donovan at the First Methodist Church in Arlington on June 13, 1954 after purchasing a marriage license for $3 from the Gilliam County clerk. Shirley and Carroll soon relocated to The Dalles, where they started their family of three children – sons, Jerry and Jack and daughter, Carol Ann. Old family movies and photographs reveal that Shirley and Carroll made many life-long friends while in The Dalles. Apparently, the couple would host BYOM barbeque parties, BYOB parties, New Year's Eve parties, and on at least one occasion, a "come as you are" party. Shirley also joined Carroll and his hunting buddies with their wives on hunting trips. In the late 1950s and early 1960s, trips to hunt the Imnaha area and the breaks of the Snake River required an adventuresome spirit. The vehicles were often jeeps, and the camps were primitive compared to the typical camp today (a green canvas Army surplus tent and a Coleman lantern), but it is obvious from the movies that Shirley had fun on these excursions. She would have a big smile as she is seen riding Carroll's Tohatsu motorcycle and target practicing with both pistol and rifle. Carroll credited Shirley with his taking his largest ever buck deer – "She spotted it," he would say. On one of the hunting trips, Shirley asked sister Evelyn to watch a couple of daytime soap operas for her (likely As the World Turns and Guiding Light) so her sister could update Shirley when she returned. Evelyn would later blame Shirley for "getting her hooked on soap operas."
In 1965 Shirley and Carroll moved to Boardman, where they would spend the rest of their lives (Carroll passing away in 1996 after a long battle with cancer). Soon, Shirley and Carroll made even more friends in the Boardman area, and they formed a partnership with Shirley's brother Dewey and wife Jeanne. The partnership included purchases and development of several tracts of land in the Boardman area and several businesses, including the C&D Drive In, Union 76 Station and Tire Center, and the Arco Station property.
Shirley continued with bookkeeping for the family businesses and was also co-owner/operator of the C&D, along with sister-in-law Jeanne. Later, Shirley worked as an assistant cook at Sam Boardman Elementary and Riverside High School, where she loved being with her friends and co-workers and seeing the kids each day. During her days operating the C&D Drive In and working as a cook in the schools, Shirley had the opportunity to meet and have a positive influence on the Boardman youth. This is also evident when reviewing the countless thank you cards and letters, quinceanera celebration announcements, and high school graduation announcements (Shirley seems to have kept them all).
Shirley was active in the Boardman community, including as a longtime member of the Tillicum Club and involvement in other civic organizations and fundraisers. One of Shirley's proudest moments was when she received the Boardman Pioneer Award. She also loved pinochle card parties, bowling in the women's league, playing golf at Willow Run Golf Course, being with her family, and going to the Oregon beaches with her friends and family. Later in life, Shirley enjoyed eating lunch at the Sunrise Cafe, where nobody was a stranger to her, and you might hear her say as she was leaving, "I love you and I like you." She liked to take short drives around Boardman, including west past the golf course on Wilson Road, east past the family home on Kunze Road, or down around "the loop" where she might call out where her friends or family lived.
She also liked to drive down to the Boardman Marina to see how many boats were out fishing and to see the baby geese.
Shirley was preceded in death by her husband, Carroll; her parents, Dewey Sr. and Althea West; her siblings, Dewey West Jr. and Evelyn Russell Locy; and her partner, Troy McGowan.
Survivors include her sister, Lois Hutson Gill; her children and their spouses, Jerry and Susan Donovan of Columbia City, Jack and Anita Donovan of Boardman, and Carol Ann and Curtis Viall of Mountain Home, Idaho; her 10 grandchildren; nine great grandchildren; and nieces and nephews.
A graveside service is being held on Saturday, June 11, 2022 at 10 a.m. at Riverview Cemetery, Boardman.
Following the burial service, all friends and family are welcome and encouraged to attend the gathering at the Boardman Marina Park pavilion. Dress comfortably, bring a chair, and stay awhile to visit.
Please share memories of Shirley with her family at burnsmortuaryhermiston.com.
Burns Mortuary of Hermiston is in care of arrangements.