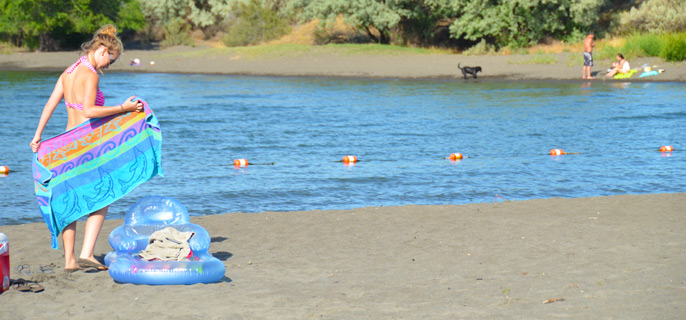 It's pushing 100 degrees and you need to cool down. Fast.
You can enjoy sand, surf and suds close to home by visiting one of our spectacular Columbia River beaches minutes from Hermiston.
Traveling east to west, from Wallula Gap to Boardman, here are our favorite river beaches:
Sand Station Recreation Area
Sand Station sits along Highway 730, eight miles upstream of McNary Dam on Lake Wallula's shore. The Corps of Engineers maintains the 8-acre park, which allows both day-use and camping. The park is small and spare but provides great views of Wallula Gap upstream. Lewis and Clark first passed this area on Oct. 19, 1805, observing many lodges along the river. Click for directions.
Warehouse Beach Recreation Center
Warehouse Beach is seven miles upstream of McNary Dam, with an access road at the Highway 730-Highway 37 junction. Maintained by the Corps of Engineers, the 130-acre park is secluded and the beach setting beautiful. The views of Wallula Gap are gorgeous. Nearby is an entrance to the Lewis & Clark Commemorative Trail. Note: Access to Warehouse Beach is from a gravel road that passes under Highway 730. Watch carefully for road signs. Directions here.
McNary Beach Park
McNary Beach Park is a 118-acre day-use park one mile upstream from McNary Dam. Managed by the Corps of Engineers, it runs 1½ miles along the Oregon shore, with the downstream portion of the park a picnic and beach area. This is a splendid spot to park it for the day – lush rolling lawns, shade trees, panoramic river views, basalt cliffs. On Highway 730, near the Port of Umatilla, turn north onto Beach Access Road and follow it to the river; directions here.
Marina Park, Umatilla
The park complex, which includes marina, RV park and swimming beach, is owned by the Army Corps of Engineers and operated by the City of Umatilla. It's located just below the Umatilla Bridge. Access it from Third Street and Quincy Avenue intersection; directions here.
Marina Park, Irrigon
Like the parks at Umatilla and Boardman, Irrigon offers another attractive, family-oriented park that offers a public access boat ramp, marina facilities, picnic, fishing and playground activities in a tranquil, scenic riverside setting. Access from Washington Avenue; directions here.
Marina Park, Boardman
This 140-acre, full-service park along Marine Drive in Boardman includes a crescent-shaped swimming beach. One reviewer on a travel site rated it "Excellent," and the next reviewer rated it "Excellent!" We see a trend here. Park details here, and directions here.
Observe Water and Sun Safety Practices!
Please observe safe swimming practices, such as staying within the swimming designated areas. Safety tips about the Columbia River are available in this KVEW report.
Here are water and sun safety tips from Doernbecher children's Hospital in Portland.