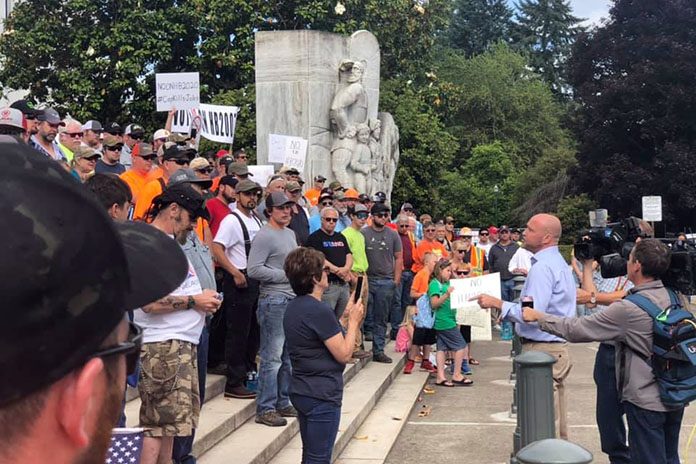 The 2019 Oregon legislative session has adjourned with Rep. Greg Smith touting several bills to help out constituencies in Eastern Oregon.
Among the nearly 400 bills passed, Smith (R-Heppner) highlighted the following:
Early Childhood Education: Supports expansions and investments in Hermiston Head Start and at the Port of Morrow's Early Learning Center.
Expansion of the Umatilla County Jail: Provides $1.6 Million investment in the Umatilla County Jail renovation and expansion to include space for mental health care services.
Preserving and Improving Manufactured Home Communities: Establishes two new resources to support homeowners in replacing their manufactured homes.
Future Farmers of America (FFA): Requires the Oregon Department of Education to coordinate with Oregon's Future Farmers of America to increase student achievement and improve graduation rates, college preparation, and career placement for students enrolled in secondary agricultural courses. The bill also increases funding for FFA.
The session drew national attention when the 11 Oregon Republican senators walked out as a means of denying Democrats the needed quorum to vote on HB 2020, the bill that would have addressed climate change.
Smith thanked those who worked against the bill.
"In the final weeks of session, rural Oregon came together and did an outstanding job of advocating against HB 2020 Cap and Trade," Smith said. "I was honored to shake hands and visit with members of the timber and agriculture community when they came to the capitol. It is because of all the people that rallied together in support of #TimberUnity, that Cap and Trade was defeated."
Also during the session, Smith was appointed by Speaker of the House, Tina Kotek, to serve on the Oregon Legislature's Emergency Board. The Emergency Board is a bicameral and bipartisan committee that functions during the time that the legislature is not in session.
"I am honored to have the opportunity to serve on the Emergency Board once again," said Smith. "I look forward to working with my colleagues to ensure state agencies remain funded, the state budget remains balanced, and tax dollars of hard-working Oregonians are spent wisely."
The Emergency Board allocates emergency funds, increases expenditure limitations, authorizes transfers, receives reports, and approves submissions of federal grant applications.