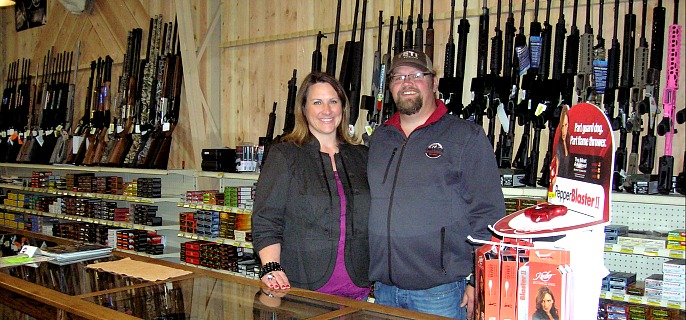 Campers, hunters and anglers in the Hermiston area have a new and convenient place to find the gear they need.
Smitty's Outpost, situated on Highway 395 in front of Smitty's Ace Hardware, opened on March 17. The store carries camping and fishing gear as well as firearms, ammunition, archery equipment and more.
The outpost is locally owned and operated by Randy and Tammy Smith, who say they are committed to meeting the community's needs. Randy Smith said they felt the area lacked a provider of outdoor sporting goods.
"Our customers will steer what we end up doing," he said. "If we get a lot more response from bow hunters, this place will end up full of archery supplies instead of guns."
Having been open for less than two weeks, Smitty's Outpost is already seeing a heavy influx of business.
"We've gotten a really positive response from the community," said Tammy Smith.
The store will host a grand opening event the first weekend in April — Saturday, April 5 from 7 a.m. to 7 p.m., and Sunday, April 6 from 8 a.m. to 6 p.m. There will be a grand prize drawing for a customer's choice of an AR-15 rifle or a rod and reel fishing package.
Smitty's Outpost is open seven days a week from 7 a.m. to 7 p.m.
More Stories from Northeast Oregon Now:
Workplace Enviroment Impacts Employee Health
5-Year-old Ejected from Car in I-84 Crash
HHS Dance Team Takes 2nd at State