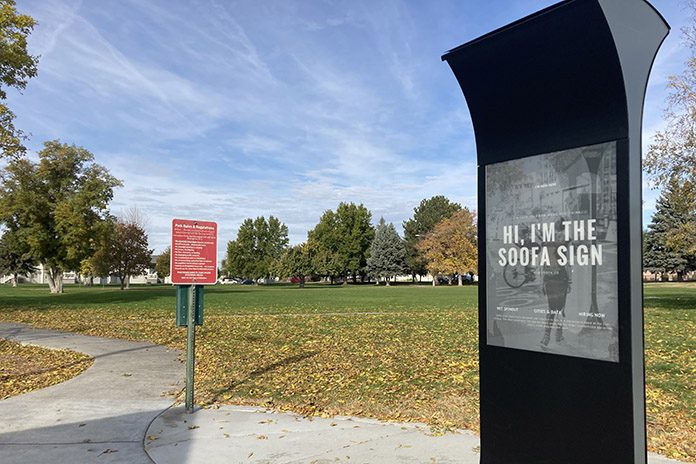 The city of Hermiston is expanding its wayfinding program and communications outreach efforts with the installation of five digital kiosks around the city.
The solar-powered signs created by Soofa use an e-ink display and will share local updates,
community-generated content, and local business information. Signs are being installed at the Hermiston Community Center, Funland Playground, Festival Street, Victory Square Park, and the Food Pod.
"These signs are a helpful addition to some of our most-visited locations in Hermiston," said City Planner Clint Spencer. "They will provide timely news and information as well as directions to help people find their way around. As more people move to and visit Hermiston, the signs will help orient and inform them."
Each sign includes both a digital display and a vinyl map of the nearby area. The digital display will share updated news from the city, a calendar of upcoming events, live Twitter feeds of community organizations including the Hermiston School District and Chamber of Commerce, and paid advertising through Soofa.
The signs at the parks, Festival Street, and Community Center have already been installed. The sign at the Food Pod will be installed once other renovation work is completed.
Soofa is a female-founded startup out of the MIT Media Lab. The Soofa Sign was featured by Engadget as a finalist for Best Vision for the Future at CES and was described by Curbed as the Facebook wall for the real world.