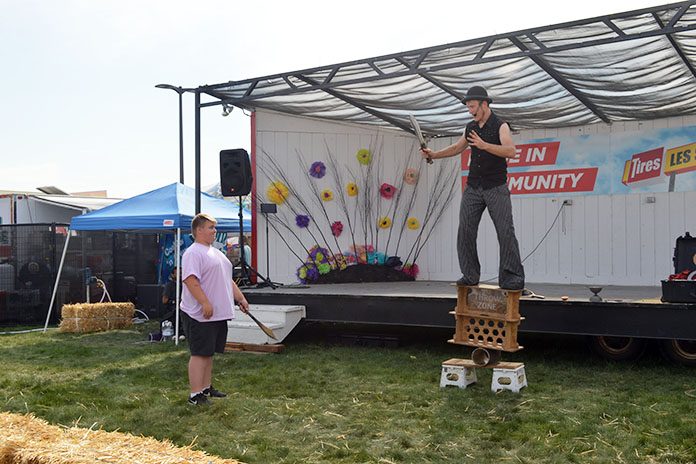 The Umatilla County Fair got under way on Tuesday with exhibits, rides, music, food – lots of food – and more.
Fairgoers braved the sizzling heat on Tuesday, checking out the sights at the Eastern Oregon Trade & Event Center. Today promises to be another scorcher with temperatures expected to reach 100-plus degrees. But don't let that keep you indoors as there is plenty to do to keep you entertained and cool.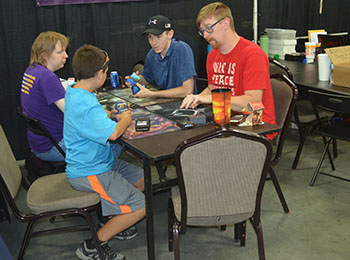 So, if you go, here's just a small sample of what to expect and what to do at this year's fair as you stroll around the grounds:
Make your own sand art: Feeling creative? For just $5 you can create a masterpiece of psychedelic color.
Chris Mabrey: Check out the act of comic hypnotist. Mabry performs several times a day and likes to have audience participation.
Rock wall climb: Test your skills for just $8 per climb, or two for $12.
Exotic animal exhibit: Take a few minutes to admire some beautiful animals that you won't find anywhere near Hermiston, including several big cats.
Laser tag: Pit yourself against a friend and bring out your mortal combat skills for $5 per game.
Mechanical bull ride: For $10, you can see how long you last before hitting the ground.
Knocker ball: Climb inside a giant see-through ball and ride the waves for just $5 of fun.
Carnival: There's plenty for everyone, whether you prefer the merry-go-round or something more nausea-inducing.
Live music: Jackson Michelson is the headliner tonight. For more information, visit the fair website.
If you're seeking to cool off, there's options at the fair for that, as well:
Event Center: Head inside to the air-conditioned center and check out the 4-H exhibits.
Dippin' Dots: Who can resist those on a hot, sweaty afternoon?
Tents: Find a seat under a shady tent and rest up and cool down.
Cool drink: From snow cones to slushies to ice-cold lemonade, there's plenty of choices to keep you hydrated at the fair.
Mist stations: Strategically located throughout the grounds, the stations offer a cool mist of water for relief from the heat.
The fair gates open each day at 9 a.m. and carnival rides get started at 2 p.m., and noon on Saturday.