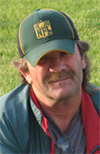 Steven Acock lost his hard-fought battle with cancer on Dec. 23, 2022 in Richland, Wash.
He was born on Nov. 1, 1953 in Pendleton to Roy "Dean" and Margie Evans Acock.
Steven grew up on the family farm with his brother and sister in Irrigon and looked forward to many summers with his grandparents, Lloyd and Roberta Evans, in Condon. Steven had a natural love for nature; aside from the farm animals, he always had a loyal dog by his side. As soon as his parents would allow, he could be found doing what he loved best – hunting and fishing. The outdoors was Steven's happy place and a place where his family and friends can find solace and recall wonderful memories in the years to come.
In 1979, Steven married his high school sweetheart, Marilyn Faye Pourier. The two of them set down roots in Irrigon and had two beautiful daughters, Kris Ann Jackson and Falon Lee Partlow. Following high school, Steven began his career as an electrician until his eyesight failed him, causing him to take an early retirement, which meant more free time for hunting and fishing at the family cabin with his family and best friend from Oregon City, Darrell Pummel. He had strong values and was liked by everyone. Despite the challenges with losing his eyesight, he was never afraid to take on new opportunities and did everything with honesty and integrity and remained so amazingly positive about life.
Steven is survived by his daughter, Kris Ann Jackson (Richard Jackson) from Pendleton; daughter, Falon Lee Partlow (Tony Jenner) from Pendleton; grandchildren, Bailee Partlow, Nicholas Partlow, Gabriel Kauffman, Kamryn Kauffman and Rylee Jackson; mother, Margie Evans Acock; sister, Roberta Barnes from Portland; brother, Scott Acock (Donna) of Irrigon; cousin, Bill Acock (Michelle) from Walla Walla, Wash.; and his longtime friends, Clarence Proctor from Hermiston and Darrell Pummel from Oregon City.
He was preceded in death by his father, Roy Dean Acock; high school sweetheart, Marilyn Pourier; and his grandparents, Roberta and Lloyd Evans.
Steven will be remembered as a loving, supporting father and grandfather, a fierce friend, and an outdoorsman with such a witty sense of humor. Steven will be sorely missed and never forgotten.
Thanks for everything, Dad, until we meet again – we love you.
The day for a celebration of Steven's life is still to be determined; services will be announced.
Burns Mortuary of Hermiston is in care of arrangements.