The man suspected of murdering a motorist in an apparent road rage incident in Hermiston in June has been extradited to Umatilla County and charged with second-degree murder.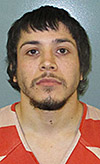 Jaime Ubay-Farfan, 24, the suspect in the murder of Tracey Scott Medows, had been in custody in Benton County, Washington on an unrelated road rage charge.
According to the Umatilla County Sheriff's Office, just prior to his murder, Meadows, was able to provide law enforcement with information that led to the charge against Ubay Farfan.
Back on June 20, at approximately 7:56 p.m., Medows called the Umatilla County Sheriff's Office via 911 to report that a vehicle was trying to run him off the road and was driving erratically near milepost 180 westbound on Interstate 84. Medows provided the dispatcher with a vehicle description and a Washington state license plate number on the 2009 gray Acura. Because the driving complaint was occurring on a state highway, the call was referred to the Oregon State Police.
A short time later, at approximately 8:11 p.m., Oregon State Police requested medics to respond to the area of Lamb Road and Interstate 82 for a report of a man slumped over the steering wheel in a black Dodge pickup. The medics responded and found the man deceased from what appeared to be gunshot wounds. He was later identified as Tracey Medows from Hood River.
The Umatilla County Sheriff's Office worked in cooperation with the Umatilla County District Attorney, Oregon State Police, and Oregon State Police Mobile Crime Lab. Because of the earlier information provided by Medows, Ubay-Farfan, the registered owner of the Acura TL, with an address in Mesa, Wash., was suspected to be involved.
Throughout the investigation, UCSO Detective Calvin Meade worked with law enforcement officers from the sheriff's offices in Benton and Franklin counties in Washington, the Richland Police Department and the Kennewick Police Department. Meade learned that Ubay-Farfan was a suspect in an unrelated road rage incident that occurred approximately two weeks earlier in Washington where he allegedly pointed a handgun at the victim. The Richland Police Department developed probable cause to arrest Ubay-Farfan as a result of that incident.
UCSO detectives, working in cooperation with the Richland and Kennewick officers, located Ubay-Farfan. At approximately 5:52 am, on June 21st, the Richland Police Department contacted Meade and informed him that Ubay-Farfan was in custody.
As detectives continued to work the investigation, they determined that Ubay-Farfan allegedly shot Medows while he sat in his vehicle after both vehicles had pulled over to the side of the roadway. Ubay-Farfan's vehicle then left the area.
Bail has been set at $4,000,000.