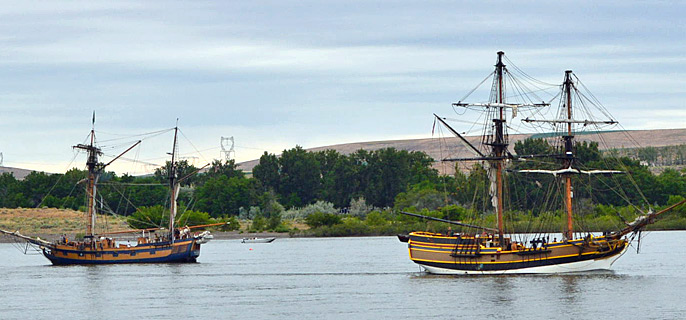 The Lady Washington and the Hawaiian Chieftain made their way through McNary Dam Tuesday afternoon on their way to an overnight stay at the Umatilla Marina but, alas, no tours were given.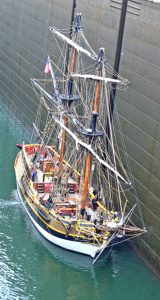 The news was a bit of a disappointment to the crowd gathered at the marina, hoping to get to walk the decks of the tall ships, but the vessels were closed off to the public for maintenance. For the past 10 days, the two ships were open to tours while docked in Pasco. Liam Barnes, steward for the Lady Washington, said between 800-1,000 people toured the ships during their Pasco stay, leaving no time for the needed routine maintenance. The ships will leave the Umatilla Marina around 9 a.m. on Wednesday and make their way to Arlington before heading to The Dalles.
The Lady Washington, is made of wood and is a full-scale reproduction of the original Lady Washington built in the British Colony of Massachusetts in the 1750s. It is the official ship of the state of Washington. The original vessel carried freight between colonial ports until the American Revolutionary War, when she became an American privateer.
The Lady Washington achieved a degree of fame when it appeared in the first Pirates of the Caribbean movie. At its full height, the ship is 88 feet tall, while the Hawaiian Chieftain is 76 feet tall. The ships' height was lowered to 64 and 62 feet, respectively, on Tuesday.
"We had to down rig to make it under the bridges," Barnes said.
The Hawaiian Chieftain, a replica of a typical European merchant trader of the turn of the 19th century, accompanies the Lady Washington on her voyages and goodwill missions. Unlike the Lady Washington, the Hawaiian Chieftain is made of steel.
Throughout the year, the two ships are part of an educational program geared toward fourth and fifth graders. Each ship takes about 40 children aboard for trips up and down the West Coast.
"We teach them how sailors used to live," Barnes said. "They set the sails and we make them sing shanties."
For more information on the ships, visit their website.