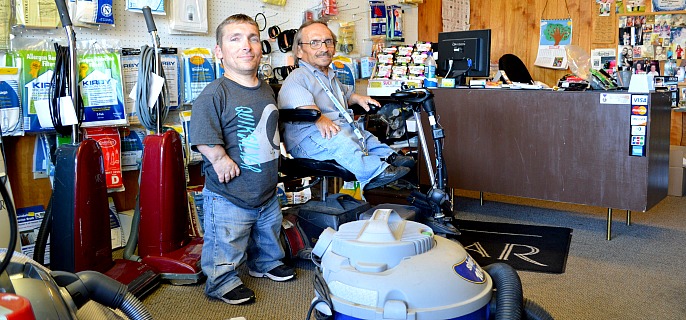 [quote style="2″]Dennis' Vacuum Has Built Loyal Customer Base Over the Years[/quote]
After 30 years of working around vacuum cleaners, Dennis Rogers has seen it all – from people vacuuming up valuable jewelry to bath towels and even a few unmentionables.
Rogers, who owns Dennis' Vacuum on Hermiston Avenue, has made a living out of repairing vacuum cleaners – no minor feat in an increasingly throw-away society. It turns out people can get attached to their vacuums and if the repair cost is reasonable, would rather have them fixed than buy a new one.
The small shop in the Mae Burns building at 750 W. Hermiston Ave., Suite 1, is filled with vacuum cleaners either waiting to be repaired or picked up. The key to success, said Rogers, is good service and a fair price. His son, Dennis Jr., says honesty goes a long way, as well.
"We'll tell people if they're better off just buying a new vacuum," he said. "It doesn't do us any good to charge them for a repair only to have something else go wrong in a month or two."
Rogers, 62, got his start in the business in the early 1980s when he began selling cleaning supplies at Ron's Sew & Vac in Hermiston. He didn't know much about vacuums at the time.
"He couldn't even run one," Dennis Jr. said.
"I could plug one in – that's about it," Rogers said. Eventually, he began tinkering around with the machines and started to learn how to repair them. He continued working for Ron's Sew & Vac for about two decades before quitting – a decision that didn't sit well with his clients.
"People kept coming up to him all over town asking him to fix their vacuums," his son said. Rogers decided that, maybe, opening his own vacuum repair business might be a good idea. When a suite in the Mae Burns building opened up, Rogers talked to Joe Burns to see if it was available. He's been working steady in his business there for the past eight years.
The most common problem Rogers has encountered as a vacuum repairman is plugged tubes.
"One lady brought in a vacuum and said it was plugged up," Rogers recalled. "I took a look and could see what looked like a towel stuck inside. I got a hold of it and started pulling and pulling and kept pulling. I finally got it out and it was longer than the tube. I have no idea how she managed to vacuum up an entire towel."
Sometimes something much more valuable gets vacuumed up.
"Another lady came in who had vacuumed up her wedding ring – don't ask me how," he said. "She was almost crying. I got it out and somehow there was no damage to it."
Rogers said the most common mistake people make when using their vacuums is failing to pick things up by hand that should never be vacuumed like, uh, towels, for example. Anything other than dirt, dust or pet hair should probably be picked up before running the vacuum. And, he added, don't vacuum up water or other liquids – it could rust out the insides of the machine.
Rogers also cautions people about falling for the 'latest and greatest' technology. Bagless vacuums, he said, aren't worth the money. For one thing, they tend to get utterly filthy, with dirt and dust spreading throughout the machine. Vacuums with bags keep all the dirt neatly contained inside the disposable bag.
"People think they save money with bagless vacuums because they don't ever have to buy any bags," he said. "But they have to change out their filter every six months with bagless vacuums and those cost about $30, so you're not saving any money." Rogers, himself, has owned the same Riccar vacuum for 20 years and said he would never buy a bagless vacuum.
"Dyson makes a good commercial, but that's about it," he said.
Rogers not only repairs vacuums, he also sells new and used vacuums. He carries Riccar and Oreck vacuums and parts for any number of brands. He also repairs sewing machines, as well.
When the time comes for Rogers to step down, the business will go to his son.
"I'll never shut this place down," he said.
More Stories from Northeast Oregon Now:
Little Relief from the Heat in Sight
Good Shepherd Breaks Ground on Expansion
High-Speed Chase Ends in Arrest at Gunpoint