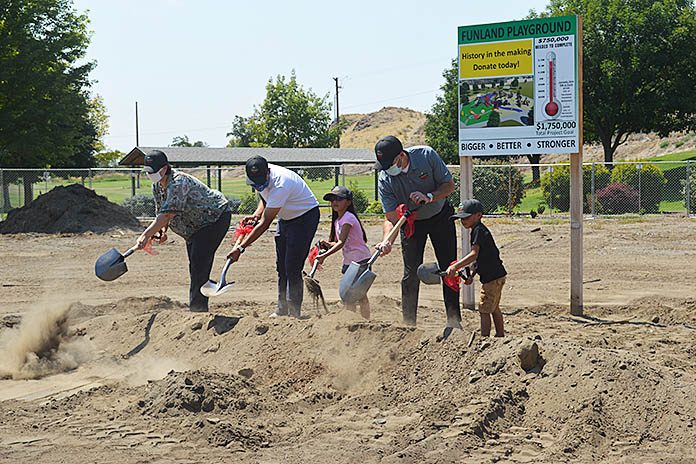 The first two children to officially set foot on what will soon be Hermiston's new Funland Playground weren't there to play on Wednesday, but work – at least for a few seconds.
A quiet little ceremony – more like a photo op – took place with 9-year-old Jayda Martinez and her brother, 5-year-old Jaysen Martinez joining others to turn over the first shovels full of dirt on the playground that city officials hope will open in October. Also taking part were Hermiston Mayor Dave Drotzmann, City Councilor Roy Barron and Patricia Alder, a member of the rebuild committee.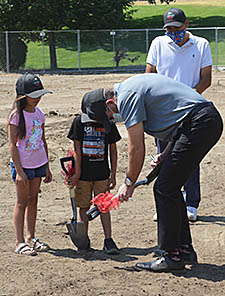 Once completed, the playground will feature three zones – Wild West, Adventure and Farmland. Visitors who have been to Disneyland will get a familiar feeling upon entering the playground.
"I'm super excited about where we're heading with this project," said Hermiston Parks & Recreation Director Larry Fetter.
Fetter said among the features of the playground will be a giant kraken and a pirate ship, a three-story silo and a six-foot-tall watermelon slide.
Funland was first built in 1995 and was destroyed in an arson fire shortly after. It was rebuilt in 1996, but was again destroyed in a fire last summer. The new playground will be constructed out of vandal-resistant material.
Work is expected to get under way on Monday when the rolling terrain will be shaped and locations for the various elements will be pinpointed.
If all goes well, the park should open in October. Fetter, however, said that depends on the weather cooperating and materials being available. Fetter said some materials ordered have already been delayed.
The city has created a webpage where the public can view the progress of the playground online.