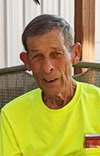 Thomas J. Kraft Sr. of Hermiston passed away in Hermiston on Oct. 16, 2021 at the age of 77.
He was born on Jan. 29, 1944 in Salina, Kan. to William and Eva Mae Hollen Kraft.
Thomas moved with his family from Kansas to Idaho when he was 10 years old. He grew up and attended schools in Clayton and Rupert, Idaho. After high school, he served in the U.S. Navy for three years, where he obtained the rank of boiler technician petty officer third class. After his honorable discharge he moved to Forks, Wash., where he began his career as a log truck driver. He worked for I.T.T. Rayonier driving log trucks for over 20 years. He then bought his own truck and drove for himself for many years. He drove truck in many communities throughout Oregon and Washington until retiring in 2015.
Thomas enjoyed fishing, hunting, golfing and playing Wii Sports, and enjoyed spending Sunday watching the Seattle Seahawks play football. He was a member of the Elks Lodge for over 40 years, had helped establish the Elks Lodge in Forks, Wash., and had served as the exalted ruler for several years.
Thomas married Frankie Ellis in Forks, Wash. on Nov. 9, 1967.
He is survived by his wife of 53 years, Frankie; sons, Thomas Jr. and William R. Kraft; brothers, Bob Kraft, Jerry Kraft and Dick Kraft; sister, Judy Colouzis; and several nieces and nephews and extended family members.
He was preceded in death by his parents; brothers, Ron and Don; and a sister, Aline.
A private family burial will be in the Minidoka Acequia Rupert Cemetery in Rupert, Idaho.
A celebration of life will be announced in Hermiston and Forks, Wash. at a later time.
To leave an online condolence for the family, please go to burnsmortuaryhermiston.com.
Burns Mortuary of Hermiston is in care of arrangements.