The Hermiston Police Department is again asking the public's help in finding Graciela Garcia, the Hermiston woman who went missing two years ago today.
"This will certainly be a difficult day for her family and friends," said HPD Capt. Travis Eynon. "They will all be in our thoughts."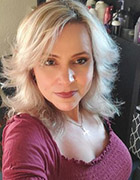 Garcia, 50, was last seen on Nov. 8, 2019 and was reported missing on Nov. 11, 2019.
Eynon is asking anyone who may have any information on Garcia's whereabouts or what happened to her to contact Sgt. Guerrero at 541-667-5098. Those who want to remain anonymous can use the tip line 541-667-5148.
Eynon said the case remains an active investigation.
"They (Garcia's family and friends) certainly deserve to know what happened to her," said Eynon.