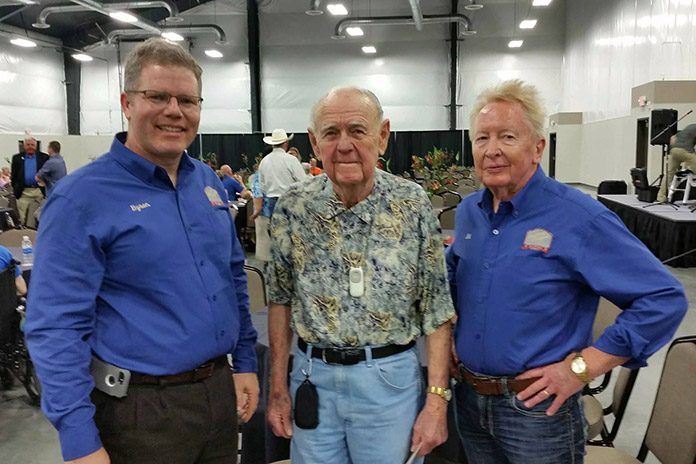 When Tom Harper and his family arrived in Hermiston in the early 1960s, the town had a population of about 2,500 and was mostly sage brush.
After 26 years as the Hermiston city manager, the town in 1987 was barely recognizable from the one he took charge of in 1961.
His son, Mike, remembers what there was – and wasn't – in Hermiston in those early days.
"North of where Les Schwab is today, there was nothing but sage brush," he said. "In fact, there was a lot of sage brush everywhere."
But, he added, it had the small-town charm that Tom Harper was looking for to work and raise his family in.
"It was a small town for sure," said Mike. "You knew your neighbors."
Harper, who died Tuesday at the age of 96, was Hermiston's first city manager and according to those who were around at the time, the city needed managing. The late Frank Harkenrider, a man who spent more than 50 years in Hermiston city government, was on the Hermiston City Council when Harper was hired.
Harkenrider once said that prior to Harper, city council meetings would go on until midnight at times. He said Harper put an end to that by running things in an orderly fashion.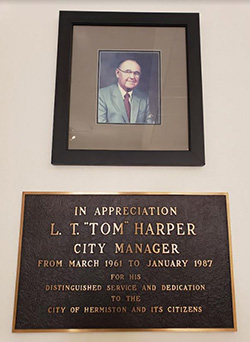 Mike Harper said that sounds like the man he knew.
"He liked to get things done," Mike said. And what he got done for Hermiston was a simple case of modernization.
Former City Manager Ed Brookshier said it was Harper – and a few other key figures – who helped shape Hermiston into the city it is today.
"He was key in establishing a tradition of professional management for our city," said Brookshier. "He was key among that group that set Hermiston on a course of continuing growth and economic expansion."
His son, Mike, put it simply: "He liked building things," he said. "He was a visionary. He had a vision and pointed us in the right direction."
Among the changes Harper brought to Hermiston was an updated accounting system, a new sewer system and an ability to get federal dollars through grants.
"He didn't know how to write a grant when he got here, but he learned how to," said Mike.
After serving in World War II, Harper got a degree in physics from Kansas State University.
"How he became a city manager with a physics degree, I don't know, but he knew quite a bit," said his son. "He had surveying experience, as well."
During his time as city manager, Harper's work schedule was sort of 24/7.
"He did a lot of work on weekends," said Mike. "And people would call at all hours if they had an issue they needed to talk to him about. And he took every call."
When asked to sum up his feelings for his father, Mike Harper paused to consider the question.
"He was somebody I looked up to," he said. "He did so much and accomplished so many things. He had a good vision for what a town should be."