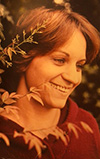 Toni Lorraine Addington of Hermiston passed away in her home in the loving arms of her husband and best friend on July 10, 2020 at the age of 67, surrounded by prayer and family.
She was born on April 1, 1953 in Santa Rosa, Calif. to Marlin "Joe" and Barbara Malugani Marshall.
As an Air Force brat, Toni travelled extensively throughout the United States and internationally during her childhood. She graduated from Vanden High School near Travis Air Force Base in 1971. She lived in the bay area of California throughout much of her adult life until moving to Hermiston in 1994.
Toni married her best friend, Don Addington on Oct. 15, 1988 in Los Gatos, Calif. From this day forward, both Toni and Don formed a bond and a relationship that is surpassed by none and unbreakable. Their adventures took them on motorcycle rides and road trips, and finally landed them in Hermiston. This is where Don proceeded to build a house of love for his bride, her castle as she called it. Don and Toni together helped build a family and home that many will continue to call their safe haven.
Toni enjoyed bowling and served in a leadership position, and was a member of the 600 Club. She also enjoyed sewing, quilting and golfing, as well as reading. She was often found praying in the early morning hours, as well as throughout the day. Her true passion, however, was for her family and friends. The love and dedication that she bestowed upon her family was unlimited. Her devotion to her faith was widespread and she often taught her family by the Bible. She was always quoting scriptures or "positive" sayings. Her biggest request was that people showed kindness and love to all.
For "Momma Toni" or "Grandma Toni," family was more than blood. To her, family meant a deep love and lasting relationship, regardless where you
originated from. Momma Toni created a legacy of love and values that spanned over four generations. To her, family meant love. Food, fun and sun were some of her favorite pastimes, and she shared this with all of those that came upon her porch. Barbeque, fireworks, long talks of Jesus, life teachings and laughs, this is what Toni loved about life.
Toni had a calling to help children and she served as a caregiver for children of all ages throughout her lifetime. She volunteered at CASA and loved dressing up as a clown.
Most important to Toni was her strong faith in the Lord, and she was a mighty prayer warrior. She fought to the end to make sure that everyone was counted and nobody was left behind. Her prayers and faith in the Lord gave her peace at the end of her life, and she is now dancing in Heaven with our Lord.
She is survived by her husband and best friend, Don; daughter, Jessica and son-in-law Craig Raphael; mother, Barbara Marshall; brother, David Marshall; sister, Elizabeth Lynne Hall; grandchildren, Amanda Griffith and Charlie Griffith; many nieces and nephews; and many extended and adopted family members.
Toni was preceded in death by her father, Joe Marshall and brother, Walter Marshall.
A memorial service and celebration of life will be held on July 25, 2020 at 11 a.m. Services will be at Living Faith Church, and there will be a continued celebration following the service. The celebration of Toni will be at her home, across the street from Living Faith Church.
Family suggests memorial contributions in her memory be made to the Salvation Army or to Vange John Memorial Hospice.
Burns Mortuary of Hermiston is in care of final arrangements.