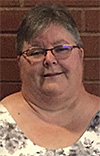 Toni Jeanne Marie Raymond Eddy died on July 25, 2022 at the age of 65.
She was born in Newberg on April 12, 1957 to Arvild (Bobo) and Margaret Raymond. She grew up in St. Paul, the seventh of nine children.
Toni graduated from St. Paul High School in 1975, valedictorian of her class.
One of her greatest memories was her trip to Mexico that her dad helped her go on shortly before he passed away in 1974. She began college, but took a hiatus to pursue other options. She worked for the state of Oregon before she began teaching in a church school. In late 1989, Toni began her discernment of a call to enter the Sisters of the Holy Names of Jesus and Mary as a pre-candidate, living with their community in The Dalles until her ongoing discernment made it clear that her true calling was to be a mother. In July 1990, she began attending Eastern Oregon State College in La Grande to become a teacher. She worked at the college in different positions. She thoroughly enjoyed her time as a RA in Dorion. She graduated from EOSC in 1993.
As part of her degree, she came to Hermiston to do her student teaching at Rocky Heights. She worked part time at the Simplot processing plant in the kitchen. It was here that her desire to become a wife and a mother came true. Toni met George in December 1993, and they married on June 25, 1994 in her hometown of St. Paul. She always said she became a wife, mother, and grandmother in one day. They moved to Irrigon in 1997, where they had resided ever since. Their home was open to many over the years – she did not know a stranger. Everyone was family.
Toni's greatest joys came in serving others through her church, music, baking, family, and her job at UMHS. She was active in Our Lady of Angels, leading music and children's choir. As she transitioned to Anchor Point Seventh-day Adventist Church, she continued to be involved in music and children's activities through being a part of a worship praise team and VBS. She was the Children's Church leader for several years. Toni was also a faithful guide in Journey to Bethlehem. She was involved in the food basket ministry in Stanfield. One of Toni's greatest passions was baking for others. Baking was more than just a hobby for Toni. It was a way for her to spread joy and share her love with everyone, whether it was for a fundraiser, a friend, a church potluck, family, or colleagues. She put her whole heart into everything she baked.
Toni is survived by her husband of 28 years, George; her children, Becky Eddy, Cathy Van Schoiack, Dawn Eddy, Donald White, George and Jamie Eddy, Laura Eddy, Mike and Veronica Royer, Mike White, Rose White, Robert and Kristin White, and Tilly Williams; her grandchildren, Alex, Ali, Corbin, David E., David V. III, Dennis, Emma, Isabella, Jack, Kyle, Kyoko, Lilyanna, Mavis, and Violet; one great grandchild, Alara; and her siblings, Sister Barbara Raymond SNJM, David Raymond, Hank Raymond, Nicki Ruiz, Robin Mallory and Tami Wheeler.
She was preceded in death by her parents; sisters, Dolores "Punky" Raymond and Dianne Petrovich; and an unborn daughter.
Services will be on Saturday, Aug. 13 at 2 p.m. at the First Christian Church, 775 W. Highland Ave., Hermiston.
A fellowship meal will follow. In honor of her life, please wear bright colors, as this represented life to her.
Please share memories of Toni with her family at burnsmortuaryhermiston.com.
Burns Mortuary of Hermiston is in care of arrangements.