The Statewide Transportation Improvement Fund Coordinator Staci Kunz is entering her second year on the job with a goal of promoting public transit in Umatilla County.
The State Transportation Improvement Fund (STIF) was established as a part of Oregon House Bill 2017, also known as "Keep Oregon Moving." It created a new dedicated source of funding for improving or expanding public transportation service in Oregon, including rural Oregon.
This position is operated through a public-private partnership between Eastern Oregon Business Source and Umatilla County. As STIF coordinator, Kunz provides consultant services on transportation projects. This includes assisting public transportation providers seeking STIF funds with project requests for route or service expansion; carrying out the Umatilla County STIF Plan; conducting, monitoring, and reporting on awarded projects; and serving as the county staff support in recruiting, training, and reporting for the STIF Advisory Committee.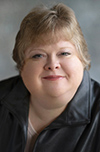 Kunz's first goal for the year ahead is to launch a public awareness and education campaign about public transit options in Eastern Oregon. She said the campaign will focus on encouraging people to take full advantage of public transit, and on educating people about how to access and use public transit.
Another goal is to bring together the wide range of public and private transportation providers across the region so that they can work to coordinate and enhance their services. A part of this coordination and enhancement will include reaching out to local employers to investigate the specific transportation needs of their workforce, and to try to develop a strategy to meet these needs — so that, getting to work and getting home is no longer a barrier to employment in Eastern Oregon.
A recent success for Kunz involved coordinating and writing the Intercommunity Discretionary grant that lead to Umatilla County being awarded $36,000 from the Oregon Transportation Commission. The grant will allow Umatilla County to partner with the Grant County Transportation District (GCTD) to make an existing once-a-week transit route from Prairie City to Veterans Medical Center in Walla Walla fare free for Umatilla County residents. GCTD, also known as "People Movers," operates this route, which currently stops in Pilot Rock and Ukiah, and is the only public transportation option for residents of Ukiah. As a part of the agreement, GCTD is adding two additional stops in Pendleton at St. Anthony's hospital, and on Main Street.
For more information, call Kunz at 541- 215-7652 or at stacikunz@eobusinesssource.com.