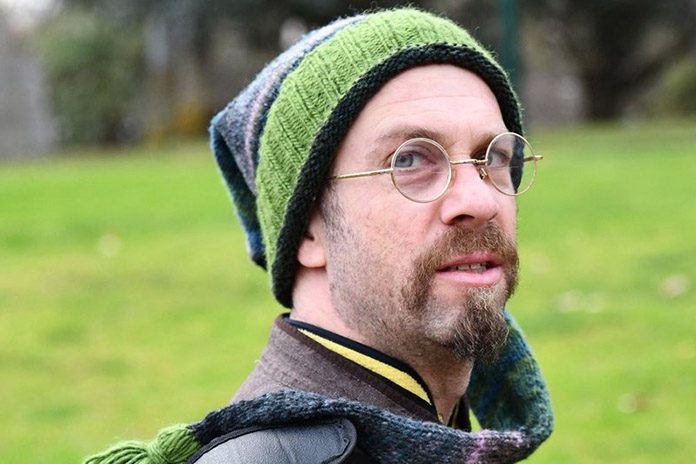 Joshua Samuel Brown describes himself as having spent close to two decades "in constant motion." 
"Until fairly recently I wasn't very good at staying put," he says.  
Fans of both literary arts and travel will be able to catch Brown on Thursday, July 20 when he presents as the featured author at the Pendleton Center for the Arts' First Draft Writers' Series. The event begins at 7 p.m. and is free and open to the public.  
Brown had a nomadic childhood; by high school he'd already hitchhiked around the east coast and faked his way into free rides on passenger trains by pretending to be a naive foreign exchange student who'd lost his wallet to a scammer.
After graduating from State University of New York at Brockport with a degree in Creative Writing, Brown followed in the time-honored footsteps of American writers like Henry Miller and William Burroughs by heading overseas to hone his writing chops in distant lands. He wound up in Taiwan having experiences that would eventually wind up in his first book before expanding his travels to China and South East Asia.
"I explored SE Asia for several years before heading back to the states, settling for a couple of years in Boulder, writing newspaper features for a series of Colorado publications," he said. "In 2002 I returned to China and bounced around the country for a few years and wrote articles on art, culture & travel."
In 2006 he published his first book, Vignettes of Taiwan (Things Asian Press), which led to the first of many contracts with guidebook leader Lonely Planet. For the next seven years he traveled from place to place, mostly doing guidebook updates but also taking occasional side gigs. In 2009 (and again in 2011), he was invited to join the prestigious USC Annenberg/Getty Arts Journalism fellowship. 
Brown moved to Portland in 2012 and continued writing articles for Lonely Planet. He self-published a second book of illustrated short stories called How Not to Avoid Jet Lag and Other Tales of Travel Madness and in 2016 returned to Taiwan with his partner Stephanie Huffman to co-author Formosa Moon (Things Asian Press). In 2020, the couple returned to Oregon, where he published his debut novel Spinning Karma with Camphor Press
When asked about themes running through his work beyond the general idea of travel, Brown notes, "If I had to name a subgenre I'd go with transformation. The years I made my living as a travel writer for Lonely Planet and other publications inspired much of the more creative non-fiction (and pure fiction) vignettes and short stories I've published over the years. Though my novel isn't a book about travel per se, my protagonist, the reluctant leader of a failing religious cult, sets in motion a series of profound personal and political transformations through international travel."
Brown and Huffman reside in Pendleton. More information about his work can be found at josambro.com. 
Guests of First Draft will have the opportunity to pose questions to Brown during the discussion that follows the main reading and read their own 3 to 5 minute works of original writing during Open Mic. First Draft is made possible in part by a grant from Oregon Humanities (OH), a statement nonprofit organization and an independent affiliate of the National Endowment for the Humanities, which funds OH's grant program. More information about the First Draft Writers' Series can be found at PendletonArts.org or by calling the Pendleton Center for the Arts at 541-278-9201.