A simple case of trespassing helped a Hermiston police officer arrest a Hermiston woman on drug and weapon charges.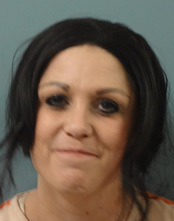 On the night of Dec. 28, around 8:17 p.m., Hermiston Police Department Street Crime Team member Officer Will Jons stopped Malissa J. Bush for trespassing on the property of G&S Tire Factory, 535 N. First St., after business hours.
Bush, who gave 510 E. Catherine Avenue, Hermiston, as her address, had approximately three and a half pounds of marijuana, a stun gun and drug paraphernalia in her possession. She also had three warrants for her arrest.
Bush, 46, was charged with unlawful delivery of marijuana with 1,000 feet of a school,, unlawful possession of marijuana, possession of drug paraphernalia, and being a felon in possession of a restricted weapon. She was lodged at the Umatilla County Jail in Pendleton.
The arrest was made possible, in part, by G&S Tire Factory signing up for the HPD's Trespass Enforcement Program. Participating businesses allow, in essence, the HPD to act as their agent in charge after hours.
"In 2013, we only had 30 businesses register for the trespass enforcement program," Hermiston Police Chief Jason Edmiston said. "This is the perfect example of how that program can work for the police department."
Edmiston said the department will be taking a more proactive approach to enlisting new businesses for this program in 2014.