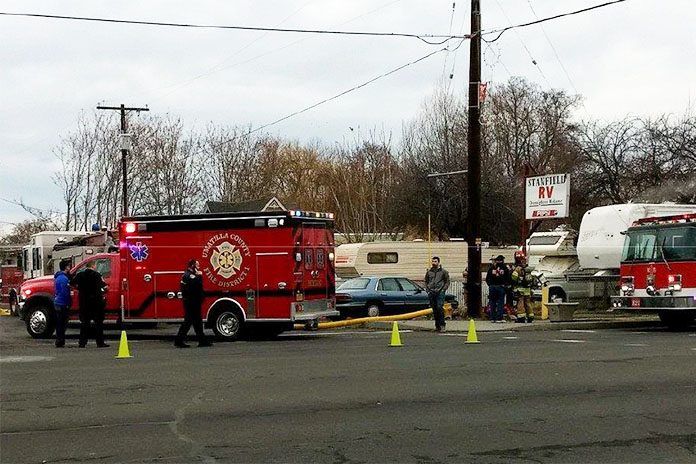 Two people are in serious condition after an explosion at the Stanfield RV Park on Saturday.
The Stanfield Police Department responded to a RV trailer explosion on 1:50 p.m. after a caller reported seeing flames coming from an RV trailer following the sound of an explosion at the park located at 355 S. Main St. in Stanfield.
Two adults were inside the trailer when it caught on fire but were able to escape by breaking out a trailer window. The two victims were identified as Michael Gregorio Bermejo and Elai Borstad, both 25.
According to the Stanfield Police Department, both subjects suffered critical burns and injuries. Both victims are in serious but stable condition at Legacy Emanuel Medical Center in Portland.
A search warrant was conducted at the trailer later that evening. Evidence collected from inside the trailer will be forwarded to the Oregon State Crime lab for testing.
While conducting the search warrant, officers located two small puppies that appear to be unharmed inside the trailer. The investigation into the incident is continuing. The Stanfield Police Department is being assisted by the Hermiston Police Department, Umatilla County Fire District One, and the Umatilla County District Attorney's Office.