An Oregon Department of Corrections (DOC) adult in custody, Raymond M. Scharick, died this morning, Nov. 14.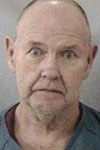 Scharick was incarcerated at Two Rivers Correctional Institution (TRCI) in Umatilla and passed away at the facility.
Scharick entered DOC custody on Sept. 16, 2014, from Crook County with a release date of Sept. 21, 2026. Scharick was 73.
TRCI is a multi-custody prison in Umatilla that houses approximately 1,800 adults in custody.