The Umatilla Electric Cooperative Business Resource Center has hired Kristin Connell, a Hermiston native, as the lead business adviser serving the UEC service territories.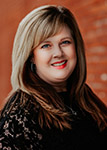 Connell spent the last 27 years in the Staffing Industry helping local businesses hire qualified employees.
"The opportunity to continue working with business owners and being actively involved in my community means a great deal to me," Connell said. "I look forward to one-on-one business advising with new and existing business to help support and grow their business," Connell said.
UEC BRC Executive Adviser Greg Smith said Connell's connections to businesses in the Hermiston and surrounding areas will be a benefit for the community.
"This will go a long way in developing and strengthening partnerships which benefit business owners and help grow and sustain the local economy," he said.
The UEC BRC team specializes in helping business owners access the capital they need to start or grow their business. The center provides one-on-one business advising, access to COVID-19 relief programs, webinars, and training opportunities. To schedule a free and confidential appointment, call 541-289-3000 or email uecbrc@gmail.com.