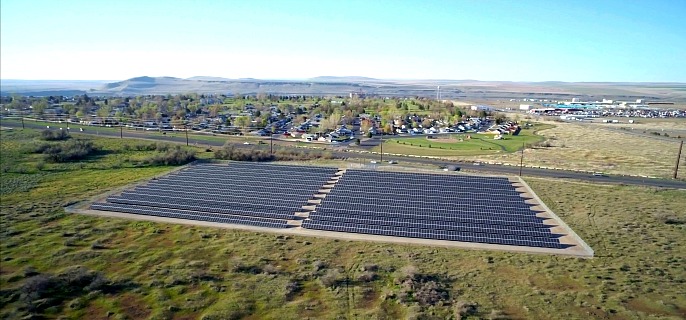 Umatilla Electric Cooperative has received a $250,134 federal grant to help offset the cost of its $2.5-million solar array at Umatilla.
UEC received the second largest of more than 800 grants awarded by the U.S. Department of Agriculture for projects in every state and three U.S. territories.
Announced by Agriculture Secretary Tom Vilsack, the Rural Energy for America Program (REAP) grants help agricultural producers and rural small businesses fund energy efficiency improvements and install renewable energy systems.
UEC energized its 1.3-megawatt (DC) solar generating project in February 2016. The project's $2.5 million cost is financed mainly with New Clean Renewable Energy Bonds. The project has generated more than 1.5 million kWh of electricity to date.
"We are pleased that this grant will further reduce the cost and increase the value of this project to our members," said UEC General Manager and CEO Robert Echenrode. "Such a significant investment on the part of the USDA shows UEC is on the right track with our renewable energy program."
USDA's REAP grants help businesses create jobs, help farmers and rural businesses reduce their carbon footprint, and help the U.S. move closer to energy independence, Vilsack said in a news release.
"These investments in clean energy are good for the environment, are good for each business's bottom line and they support the broader rural economy by encouraging the production of renewable energy sources," Vilsack said.
UEC's solar system generates enough electricity to supply the equivalent of 110 all-electric homes. Energy produced by the solar array is forecast to cost UEC about 7.6 cents a kilowatt-hour over its 25-year life.