A Umatilla man is in jail after being arrested on Monday on a robbery charge.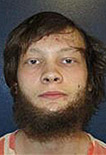 Baustun Alan Burgin, 20, was charged with second-degree burglary for an alleged armed robbery of the Metro Mart, 1120 W. Highland Ave.
Officers from the Hermiston Police Department (HPD) were called just after 12:30 a.m. with a report of an armed robbery that had just occurred at the Metro Mart.
Capt. Scott Clark of the HPD said a search of the area was conducted with the help of the Umatilla County Sheriff's Office and the Oregon State Police. Burgin was found in an outbuilding and was arrested and lodged at the Umatilla County Jail.
"We are extremely fortunate and grateful to have such good working relationships with our area partner agencies," said Clark. "Their assistance today definitely made it possible for this incident to be brought to a quick and peaceful resolution."