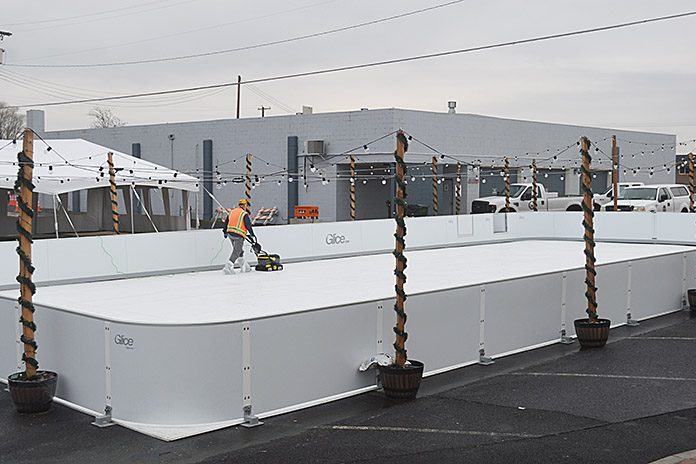 Umatilla has opened the first sustainable skating rink in the region this holiday season.
The Glice Rink offers an ecological, zero-energy alternative to refrigerated ice. It is made from heat-pressed polymers rather than ice, so water and electricity are not required for operation.
Glice, a Swiss manufacturer of Eco-Ice, was selected by town leaders of this historic spot – along the historical Lewis & Clark Trail – because of its unique sustainable skating surface that allows you to try skating during this holiday season in Village Square Park.
"The Glice Rink is a tremendous feature that plays a major role in the success of our inaugural Winter Festival," said Umatilla City Manager Dave Stockdale.
Stockdale said the rink has been a popular attraction since it opened a couple of weeks ago.
"It has now become a weekly staple, used daily for private parties and on weekends for open skating," he said.  "It has helped bring our community together in such a short amount of time and in such a positive way."
Glice has some added benefits that fit right in with this small town. Skaters don't get wet and the shock-absorbing properties decrease the risk of getting hurt.
Glice has installed more than 2,000 Eco-Rinks in more than 90 countries since 2012.
"We were so excited to be able to bring our eco-friendly rink to Umatilla for the holidays," said Mark Winter, CEO of Glice USA.
Glice also helps the environment in other ways. For every skating panel, a tree is planted in a deforested part of the world. Each of these trees offsets the entire carbon release of the production of one Glice panel.
So far, Glice customers have helped to plant more than 10,000 trees.
"As a Tree City, USA-certified city, this environmental goal and sustainable practice by Glice perfectly aligned with our community's sustainability goal," Stockdale said. "This commitment to clean and sustainable communities helped us make our decision to partner with Glice."
The Eco-Rink will run through Feb. 22, 2022, during these opening hours: Friday, 4 p.m. to 8 p.m.; Saturday and Sunday, noon to 8 pm. The rink will be closed for ice maintenance from 3:30 to 4:30 p.m. daily.
The rink is located on H Street right between City Hall/Library and Village Square Park. The rink can accommodate up to 50 skaters at a time.
For more information about Glice, visit glice.com. Or contact Winter at 310-902-4554, or email mark.winter@glice.com