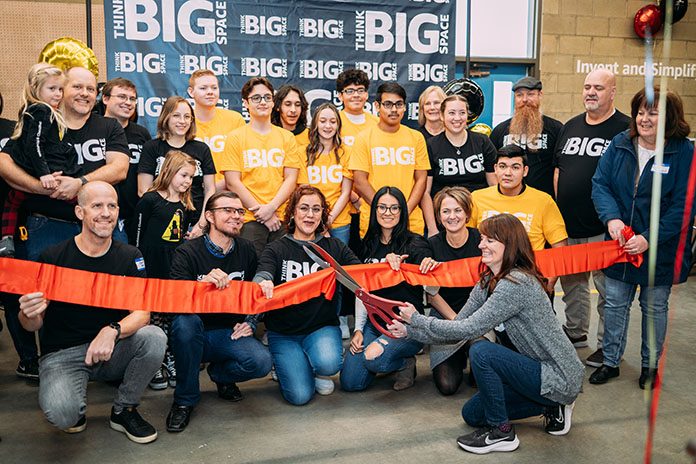 The Umatilla School District celebrated the grand opening of the new AWS Think Big Space at Umatilla High School in Umatilla on Saturday.
The new AWS Think Big Space is a collaboration between Amazon Web Services, Inc. (AWS) and Umatilla Robotics, a Umatilla High School program that aims to spark student interest in STEAM (science, technology, engineering, arts and math), revamping the site currently used by the program.
The revamped educational space features advanced manufacturing technology, including industry quality CNC equipment, improved CAD software and hardware support, and additional 3D printing labs, greatly expanding Umatilla High School's Robotics STEAM Program offerings. The launch coincided with the Umatilla Robotics season kick-off and game challenge reveal.
"We're grateful to AWS for investing in our students," said School Board Vice Chair Travis Eynon. "We're thrilled to be here to officially open this new space and we couldn't have timed it better – we can't wait for students to engage and learn from the new technology as they prepare for this year's Robotics challenge. The Think Big Space solidifies the partnership of AWS in our school community and we appreciate their partnership in the education of Umatilla students."
The AWS Think Big Space aims to support Umatilla High School's efforts to encourage a spirit of innovation among children and young adults, and cultivate their interest in STEAM careers. In fact, the vision for the space, including its concept and design, was led by the Umatilla Robotics Club. Umatilla High School junior and Junior Project Manager for Umatilla Robotics team Confidential, Avery Gutierrez, assisted with the grant application. He said succession planning is a big part of the team.
"We strive to train the next generation of members to ensure the long-term success of Confidential and Classified long into the future," said Gutierrez. "With the AWS partnership, and our Think Big Space, we have a new legacy for future generations to enjoy."
AWS Think Big Spaces are part a collection of AWS InCommunities programs that aim to make a lasting, positive impact in the communities where we it builds and operates its global infrastructure. This is the fourth AWS Think Big space in Eastern Oregon, and the second in Umatilla County.
"At AWS, we are proud of our presence in Eastern Oregon and to have the opportunity to support community partners, such as the Umatilla School District who share our passion for STEAM education," said Cornelia Robinson, Global Lead for Inclusion and Outreach, AWS. "I hope this AWS Think Big Space at Umatilla High School allows its students to not only 'think big' but to also dream big. I can't wait to see what they will create."
The grand opening event also coincided with the Umatilla Robotics season kick-off and game challenge reveal. This year's game challenge, "Charged Up," involves stacking cones, placing inflated cubes and balancing with other robotics on a center charge station. It involves both an autonomous and tele-operated game component.
Head mentor, Kyle Sipe, is excited about this year's challenge.
"This year's challenge involves some complex skills – stacking and balancing – that will have a variety of solutions from the various teams which should lead to some exciting matches during game play," he said. "I look forward to seeing what the teams come up with to solve the challenges."
Umatilla School District Superintendent Heidi Sipe said the students are hard at work on this year's challenge.
"Our students are excited, prepared, and ready to work in our new Think Big Space," she said. "I am excited to see what they will design and build with access to the type of equipment they've previously only dreamed of. I appreciate the investment AWS has made in our students."