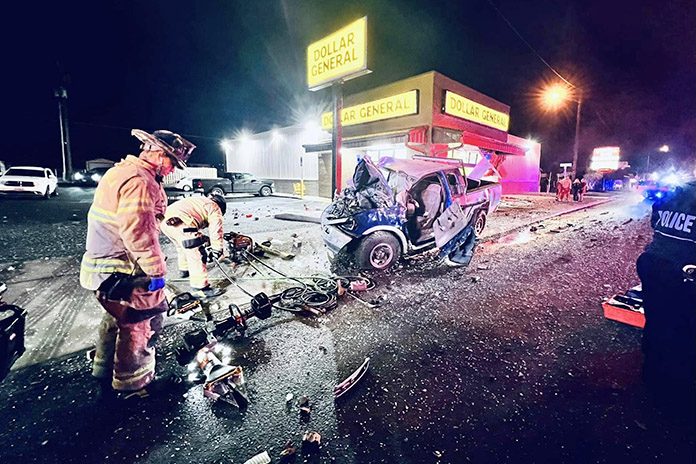 A driver was injured Monday evening after crashing into the Dollar General store in Umatilla. The store suffered extensive damage.
Just before 7 p.m., Umatilla fire crews responded to a report of a vehicle crashing into the store on 6th Street.
On arrival, crews found the building had suffered extensive damage and a heavily damaged Ford pick-up truck. Crews found the driver trapped inside and had to extricate the patient who was transferred to Good Shepherd Medical Center in stable condition.
With the help of Irrigon Fire, crews searched the building. Employees and customers were inside the store at the time of the crash, but no injuries were reported, and everyone was accounted for, according to the Umatilla Fire Protection District.
Crews then began to assess the structural condition of the building and set up barricades to limit access and prevent further injuries. Incident command worked with the Oregon Department of Transportation, the Umatilla Police Department and city employees to mitigate the "complex incident," while also managing scene control and traffic detours.
On Tuesday, the fire district's Facebook page urged residents to stay away from the building due to it having "suffered massive damage to its critical infrastructure."
The fire district cautioned residents to avoid the sidewalk and parking stalls on 6th street. Construction crews were onsite assessing the damage further and boarding up the building on Tuesday. Any suspicious activity should be reported to 911 immediately.