In 2012, nine Umatilla High School students signed up for a new club. They took electronics apart and watched videos to learn what exactly FIRST – For Inspiration and Recognition of Science and Technology – was and why it hosted a robotics competition. They may not have made it very fair in the competition that year, but Team Confidential made up for it by traveling to the FIRST Robotics Competition World Finals in both 2013 and 2014.
On Tuesday, the now 43-member team wrapped up this year's robot and sent "Carly" out for this year's competition.
"A couple years ago we were brand new," said senior Anabel Moreno, one of the original robotics club members. "Now we're bigger than we've ever been before. The shop is always full of people. Now we have a spot in the FIRST world. People know who we are, and they know they can come to us for help because we know what we're doing. That was the team we wanted to be, and now we are them."
Team Confidential's 43 students this year is up from 25 in 2014, and this year's robot, named for sponsor Carlson's Umatilla Drug, shows the skill and experience the team has gained over the past three years.
At 120 pounds – not including the battery – Carly stands 78 inches tall. She shows off her team's logo water-jetted through metal plates on her sides and will house an elevator and pulley system. She can drive and turn like a car or strafe to the side with hydraulics.
"A lot of it is trial-and-error. We watched a lot of different videos looking for ideas from different industries," Caden Sipe, head of electrical, said, pointing out the team borrowed ideas from a vending machine and a forklift in this year's design.
With four years of experience under their belts, the team has been ahead of schedule almost all build season. Unfortunately, that has resulted in a lot of waiting.
"We'll get everyone here, get ready, then we'll have to wait a week for a part to come in," Sipe said. "That's been the biggest challenge, just getting parts. Well, that and the game itself. The game is unlike any other game. When we first saw it, we didn't know what to think." In this year's game, Recycle Rush, (http://www.usfirst.org/roboticsprograms/frc/2015-game) robots score points by stacking totes and recycling bins or "correctly disposing" of pool noodles. Previous years had team-focused challenges where points were shared by a three-team alliance in each match, but this year, most of the points are individual.
"Last year, speed and dexterity were the things to look for. Now it's all about precision and effectiveness," sophomore Elijah Pine said.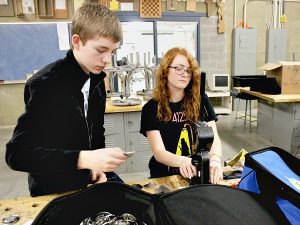 While the build team focuses on construction, junior Megan Lorence is focused on strategy. She'll attend the first week of the competition to gauge how other teams are doing and modify Team Confidential's game plan. She said doing well at the competitions is important not only for the team but for the community and younger students who could be inspired to go into robotics-related fields.
Something about the strategy is working. In addition to Team Confidential's huge growth in membership, the Umatilla School District now offers robotics clubs and activities from primary grades through 12th grade, and classes fill up.
The influx of new students on Team Confidential also means members can focus on specific tasks. One student has focused only on video production; another is the primary driver for the robot.
The marketing team has finished applications for FIRST projects in entrepreneurship and mentoring and has kept the team's website, Facebook, Twitter and Instagram updated, in addition to uploading weekly progress videos to YouTube.
Rebekah Potts, a sophomore, is in her second year on the team. Part of the build team, she focuses on wiring.
"My first priority is getting the robot power," she said. "I'm on build, but they do most of the manufacturing. They build the case for all the stuff I put in it."
While Potts helped drill holes to support Carly's base, freshmen Skyler Stokoe and Ryan Wheeler pressed Valentine hearts and the team's familiar "spy" logo onto buttons. The team will hand out more than a thousand buttons this season.
"It's exposure for our team during the competition, and it gives us a chance to show off our little robot – we drive it up and hand them the robot – and get our name out there," Stokoe said.
Both Stokoe and Wheeler are in their first year with the team and said they joined for the opportunity to learn something new, have fun, and qualify for college scholarships. Potts had a similar reason.
"I wish people knew that robotics isn't just for kids who want to be engineers. Anybody can do this," she said. "If you have a passion for art, for match, for writing, there is a place for you."
Team Confidential will compete in two district matches over the next two months, and members hope to qualify for the regional and world competitions. Follow the team's progress at http://umatillarobotics.org/