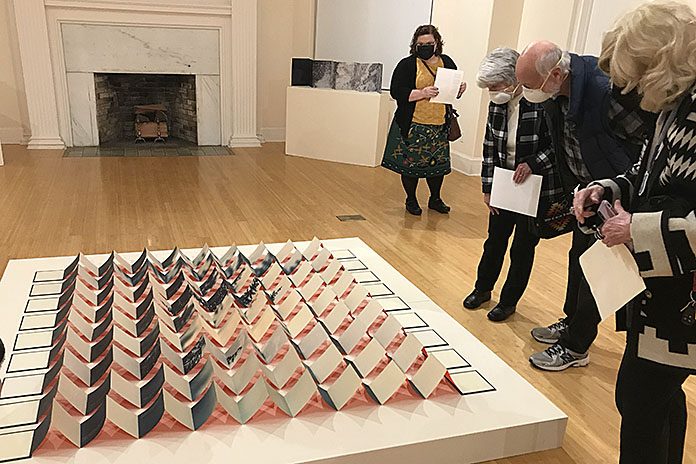 This month, visitors to the Pendleton Center for the Arts' main gallery space won't see artwork on the walls. Instead, they will encounter brightly printed accordion pages cascading down from overhead shelves, strips of color bouncing off the walls, and a sea of complex patterns reflected at their feet.
Nicole Pietrantoni: The Slow Current features works on paper, artists' books, and installations that explore the representation of beauty in times of loss, photography's role in producing memory, and humans' relationship to the environment. Her work is on display in the East Oregonian Gallery through March 31.
Pietrantoni's works are inkjet-printed, large-scale book installations that ask the viewer to negotiate the tension between image, text, and form.  In much of her work, she paints the back of each piece with a fluorescent neon red paint that reflects and glows against the white walls of the gallery. For her, this color calls to mind both the natural – the pinkish-orange light of dawn – as well as the highly artificial – the neon orange of traffic cones and hazard tape. The individual books, strips of color, images, and bits of text invite a meditation on the hopeful possibility of connection and joy.
Pietrantoni received her MFA and MA in Printmaking from the University of Iowa and her BS in Human and Organizational Development and Art History from Vanderbilt University. She is currently on a one-year leave of absence from her position as associate professor of art at Whitman University in Walla Walla, and is living in Prague, Czech Republic with her family.
The Pendleton Center for the Arts is hosting a Zoom session with the artist on Friday, Feb. 18 at 11 a.m. that is open to all ages. Pietrantoni will speak about her work and share some images and insights into life in Prague. Link to join the session is at pendletonarts.org/exhibits/current.
All the exhibit events are made possible through the generous support of Coldwell Banker Farley Company, and admission is always free. More information is available by calling 541-278-9201 or online at PendletonArts.org.