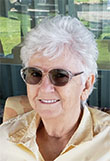 Virginia Maudeen "Mama Deen" Spinden died on March 4, 2020 at her home in Hermiston at the age of 79.
She was born on March 2, 1941 in St. Helens to Marvin and Harriett VanDolah King.
Virginia grew up in the small town of Yankton. Virginia was united in marriage to John Spinden on Nov. 15, 1958 at the age of 17. Together they raised three children, Virginia Laurie, John Ross and Brian Jay. She helped supplement the family income in the early years working at different places: Rexall Drug Store at the lunch counter, Dairy Queen, and at the Hinkle Hotel in the kitchen. Virginia later worked for 27 years at Lamb Weston, with more than 20 years as the day shift janitor, a job she took great pride in doing. Everyone from Lamb Weston and Hinkle (UPRR) remembers her cakes, brownies and other goodies that she made for special occasions.
John and Virginia spent their retirement years traveling to Hawaii, going on many cruises, and taking several road trips with John's brothers and wives, Steve and Vivian, and Jim and Debbie. She loved Christ Jesus and her church family at the Church of God.
She is survived by her loving and devoted husband, John Spinden; daughter, Laurie Taft (Ron); sons, John Ross Spinden (Kathleen) and Brian Jay Spinden (Debora); grandchildren, Patricia, Eric, Neal, Royce, Jason, Jeremy, Christopher, Stella, Mickell, Lilliann, Joshua, Ben, Emily, Erika and Rachel; great grandchildren, Hope, Tori, Svetlana, Jason (JR), Jeffery, Skylar, Taygen, Avery, Tim, Ryder, Alana, Charlie, Luke, Casey, Tyler, Kaleah and one on the way; adopted great grandsons, Hayden and Magnus and adopted granddaughter, Elisa; sisters, Margaret Dillon and Una Thomas; brother, Allen King (Jean); and many loving and loved nieces and nephews.
Virginia was preceded in death by her parents and siblings, Raymond, Louis, Joseph and Vivian.
A celebration of life at West Park, by the nature trails below McNary Dam, will be catered on July 11, 2020 from noon until 4 p.m. Please come mingle and share your memories of Virginia Maudeen "Mamadeen."
Please share memories of Mama Deen with her family at burnsmortuaryhermiston.com.
Burns Mortuary of Hermiston is in care of arrangements.