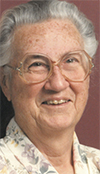 Vivian G. McFetridge, former longtime Lostine resident, died on Jan. 10, 2021 at her home in Hermiston at the age of 100.
She was born on Feb. 25, 1920 at home in Lynch, Neb. to Amasa and Elmira Cressy Cohee.
She was raised and attended schools in Nebraska before her family moved to Missouri during the Dust Bowl. Vivian moved to Idaho in 1948 to help her brother care for his newborn baby girl after the death of his wife. In 1952, a mutual friend introduced Vivian to Royal McFetridge. They were married on Jan. 31, 1953 in Idaho Falls, Idaho and made their home on Royal's farm just outside Lostine. They raised their family on the farm and lived there until 1990, when they sold it and moved to Hermiston.
Vivian was a homemaker, worked the farm, served as a 4-H leader for over 20 years, and was a dedicated supporter of her children's sporting events and other activities. She enjoyed quilting, sewing, reading, traveling and gardening; however, the greatest enjoyment in her life came from spending time with family and church friends. She will be remembered for her quick wit, easy laugh, unconditional love, and her amazing cooking.
She is survived by her sons, Doug (Judy) McFetridge, Pahrump, Nev. and Dean (Chelsie) McFetridge, Winthrop, Wash.; daughter, Carol Lovell, Hermiston; sisters, Margaret Lerwick, Scottsbluff, Neb., Ruth Cooper, Thompsonville, Ill., Hazel Spinar, Cole Camp, Mo.; nine grandchildren; 16 great grandchildren; seven great-great grandchildren; and numerous nieces and nephews.
Vivian was preceded in death by her husband, Royal McFetridge; her parents; a brother, Phillip; and sisters, Louise and Esther.
A private family service will be held with a private burial following at the Enterprise Cemetery.
Those who wish may make contributions in Vivian's name to the Wallowa County 4-H Leaders Association directly, or in care of Burns Mortuary of Hermiston, P.O. Box 289, Hermiston, Ore., 97838.
Please share memories of Vivian with her family at burnsmortuaryhermiston.com.
Burns Mortuary of Hermiston is in care of arrangements.