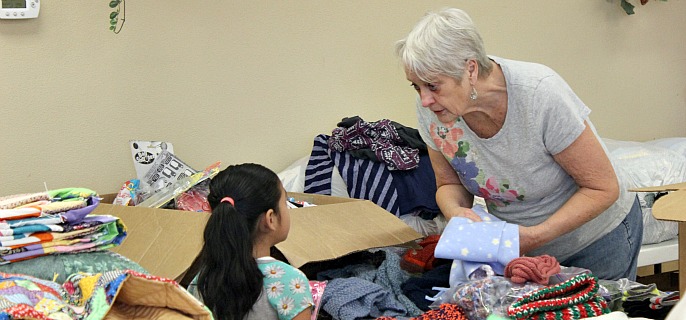 Hundreds of families and dozens of volunteers came together during the annual Christmas Express to share the holiday spirit.
Organized by the Hermiston Police Department, the Christmas Express brings food, gifts and toys to hundreds of needy families each year.
"Overall the program has been smooth this year," Police Chief Jason Edmiston said Wednesday. "We have done some major revamping with regard to personnel, but everyone has adjusted well."
Among the new volunteers were the members of the Clayson family who donated their time and efforts to distribute wrapped presents for children.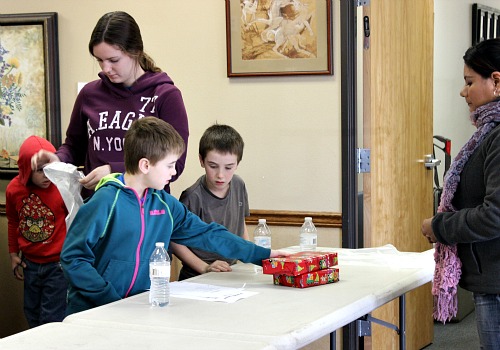 "We're just looking for a way to serve and to give back," Shane Clayson said. "It's good for the kids to do something to give back to the community."
Giving back to the community is a common refrain among those who donate and volunteer for the Christmas Express each year. Most toys are donated by individuals and businesses, as are household goods, quilts and personal items.
Much of the food is donated by local farmers and businesses; boxes are then stocked with canned and boxed goods from food drives across the Hermiston School District. Schools participating included:
• Rocky Heights and Sunset elementary schools, which have each been involved in the program for years.
• Hermiston High School, where Dave Rhorman, Chris Demianew, and Tom Spoo coordinated a food drive that brought in more than 10,000 items. Edmiston said Hermiston High students and staff also brought in about 160 presents for the program.
• Armand Larive and Sandston middle schools, where the two schools battle against each other each year for prizes and bragging rights. Combined, the two schools brought in 8,500 items.
Hermiston High School students – including Claire Wilson and Audrey Lincoln – also volunteered during the Christmas Express for National Honor Society,.
"It just makes the holidays a little warmer, a little more happy," Wilson said of the program.
Both high school students recommended others volunteer and give back.
"Even if it's not during the holidays, you can still come in and help with the food drives or donating," Lincoln said. "There's always a need."
For the Christmas Express, many volunteers helped fill that need.
Staff at Hermiston City Hall wrapped presents, Living Faith Center loaned the program its warehouse for storage and wrapping presents, and staff at Agape House again facilitated the pick-up center. Edmiston also said companies, such as RDO Equipment, sent employees to the building to help hand out food boxes during the event.
"Overall it was a great year to show how much this community cares and contributes," Edmiston said.