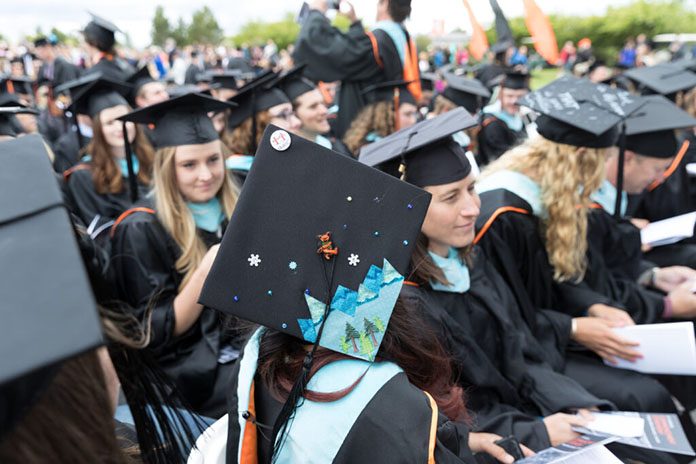 By Julia Shumway
Almost 500,000 Oregonians are eligible to have some or all of their student loans forgiven, the White House announced Tuesday.
Most of the Oregon recipients – more than 332,100 – could have up to $20,000 forgiven because they received Pell Grants, which are provided to students whose families can't help them pay for college. The remaining nearly 168,000 Oregonians are eligible for up to $10,000 in student loan forgiveness.
The Biden administration's student loan forgiveness program, announced last month, applies to people making $125,000 or less annually. About 40 million borrowers across the country are eligible, and nearly 20 million could have their entire debts wiped out, said James Kvaal, the U.S. under secretary of education.
"College is supposed to help people up the economic ladder, but for far too many borrowers and especially borrowers of color, student debt becomes an anchor that weighs them down," he said Tuesday in an online news conference.
The Department of Education hasn't yet made applications for loan forgiveness available, but they're expected to open in early October. Kvall emphasized that these applications will be free and communication will come directly from the Department of Education, as scammers have already started targeting borrowers.
Most borrowers haven't had to make student loan payments since March 2020, when federal loan payments were first paused because of the Covid pandemic. Federal loans haven't accrued interest or required payments since then, but payments are set to resume and interest will begin accruing again in January 2023.
Oregon residents can expect to pay $15,054 in annual tuition and fees at the University of Oregon and $13,191 at Oregon State University this year, according to the universities. Tuition is slightly lower at the non-flagship universities, with Southern Oregon University students paying $9,405 in tuition and Eastern Oregon University students paying $8,145. Costs are higher for non-residents and graduate students.
Kvall said the Department of Education is confident that it has the authority to forgive student loans, though lawsuits are expected.
Conservative groups including Grover Norquist's Americans for Tax Reform and the Job Creators Network, as well as Republican state attorneys general, have signaled they'll sue, potentially delaying loan forgiveness and creating uncertainty for borrowers.
One Oregon man has already sued. Dan Laschober is a Wilsonville man who previously ran for the U.S. Senate in 2016 and the Oregon House in 2018 in 2020 and lost in the Republican primary each time. He's representing himself in a complaint filed in a Portland U.S. District Court last week, arguing that loan forgiveness will result in higher inflation and thus cause the interest rate on his adjustable rate mortgage to increase. Laschober did not immediately return a call Tuesday.
For the complete story, see the Oregon Capital Chronicle.