U.S. Rep. Greg Walden (R-Hood River) today wrote to the U.S. Forest Service expressing concern over a proposal that would require journalists to apply for an expensive permit before shooting any photographs or video in a wilderness area.
Permits cost up to $1,500, says Forest Service spokesman Larry Chambers, and reporters who don't get a permit could face fines up to $1,000.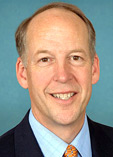 "I continue to hear from constituents across Oregon's Second District who feel the Forest Service continues to go overboard in limiting access to our public lands, including national forests and wilderness areas, and these new reports are just the latest example of access to our public lands being further restricted," Walden wrote. "Furthermore, I am very concerned about the implications this has for Americans' First Amendment freedoms of speech and the press. It is also very troubling that journalists could be held to different standards at the discretion of the issuing officer depending on the content of their stories and its relevance to wilderness activity."
In his letter, Walden asks the Forest Service to document established statues that allow it require such permits and to provide assurances that it is not violating the First Amendment rights of the media.
"Please provide the statute and specific legislative text that authorizes the Forest Service to base wilderness filming permit guidelines around the applicability of the content produced to the purpose of wilderness, and what the Forest Service has done to ensure that any of its proposed rules do not violate freedom of the press rights under the First Amendment," Walden wrote.