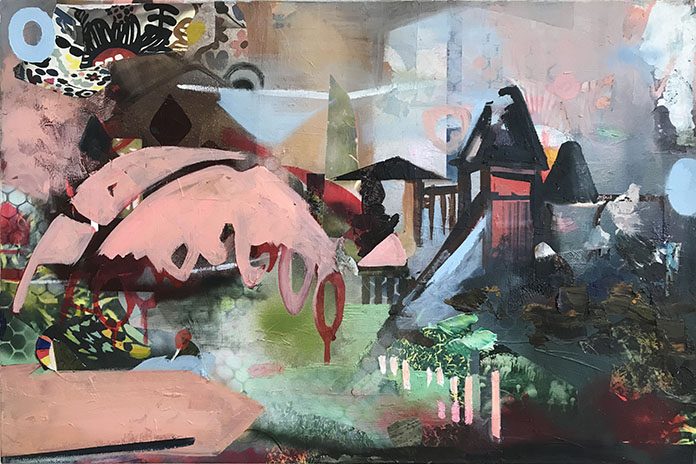 The Pendleton Center for the Arts may be in Oregon, but the organization has spent years building relationships with Walla Walla artists and patrons, and the connection was evident during the 47th Open Regional Exhibit which is on display in the East Oregonian Gallery at the Center through May 29.
Emily Somoskey took home the Best of Show Award for Chrysalis, an oil and collage work on canvas which captivated judge Nika Blasser with its composition and layered textures. Somoskey teaches art at Whitman College and maintains an active studio practice. Sheila Coe received the Adult Third Prize for A Pair, two rabbits that demonstrated both a whimsical point of view and a mastery of hand-built ceramics. More of Coe's work can be seen at the Combine Art Collective in Walla Walla. Linnea Keatts and Deborah Bruce were recognized with honorable mentions for their pieces Stained Glass Scarf and Waterford Peppers, respectively.
Walla Walla artists Ryan Gary, Andrew Somoskey, Kathryn Barron, Suzie Aldrich, Sheila Coe, Joyce Anderson, Kathryn Janaki-Howard, Susan Owen, Lorna Barth, Ellen Heath and Helen Boland have works included as well.
The Open Regional Exhibit is open each year to artists from northeast Oregon and southeast Washington, with every other year featuring only photography. There were 100 works submitted this year, a number that exceeded organizers' expectations given the difficulties that the pandemic has caused for so many families. Banner Bank has sponsored the event for more than a decade, providing the award money for both adults and teens.
The Pendleton Center for the Arts is open to visitors and features two exhibit galleries, a fine craft sales gallery, and informational displays about the Carnegie Library the organization inhabits. Groups of eight or more may make an appointment for a private tour of the gallery by calling 541-310-7413. Smaller groups may drop in anytime 11 a.m. to 4 p.m. Tuesday through Friday and noon to 4 p.m. on Saturdays. More information is available at PendletonArts.org.